TERRIERS ADVANCE TO TD GARDEN WITH 3-0 WIN OVER WARRIORS
Nick Bonino posts goal and two assists for Boston University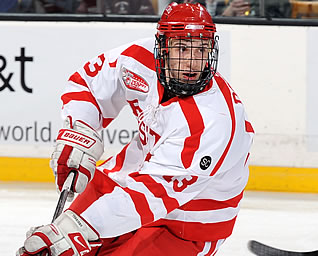 Nick Bonino had a goal and two assists for BU
BOSTON - Sophomore goaltender Kieran Millan recorded his first shutout of the season and junior Nick Bonino had a hand in every goal, as the No. 3-seed Boston University men's ice hockey team posted a 3-0 victory over sixth-seeded Merrimack in the third and decisive game of their Hockey East quarterfinal series on Sunday evening at Agganis Arena. The Terriers, who won their quarterfinal match-up in three games for the fourth time in as many years, will face Maine in the league semifinals on Friday (March 19) at TD Garden in an 8 p.m. contest.
Bonino and junior captain Kevin Shattenkirk each tallied a first-period goal, sophomore Chris Connolly added a late insurance tally and Millan did the rest, stopping all 34 shots he faced to lead BU (18-16-3) to its record ninth straight appearance in the semifinals.
Merrimack (16-19-2), which forced a third game with a 3-2 overtime victory on Saturday, outshot BU by a 34-30 margin and got a 27-save performance from sophomore Joe Cannata.
Bonino finished the game with a goal and two assists, while Shattenkirk (1g, 1a) and sophomore Vinny Saponari (2a) each had two-point nights.
A penalty-filled series had a fitting finale as the teams combined for 30 penalties for 79 minutes on Sunday. The Terriers' penalty-kill unit capped its impressive weekend by killing off all seven of the Warriors' power plays in the contest and finished the series 17-of-18. On the other end, two of BU's three goals came with the man advantage.
The shutout bid was nearly over in the opening minutes of the game, as Millan got a piece of a Merrimack shot only to have it trickle behind him. Fortunately for the Terriers, sophomore David Warsofsky was there to clear away the puck just before it crossed the goal line.
Shattenkirk opened the scoring 9:12 into the contest when he took a pass from Bonino at the left circle and beat Cannata for his sixth goal of the season.
The home team doubled its lead on its Terriers' first power-play chance of the night, as Bonino doubled knocked home a second effort from along the right edge of the crease with just 38.6 seconds left in the opening period. Saponari and Shattenkirk picked up assists on the tally.
Neither team scored for a span of over 37 minutes with Millan continuing to stop everything he saw and Cannata doing everything he could to keep his team in the game.
Merrimack had three power-play chances in the final stanza, but could not solve Millan and the BU defense.
The third and final goal came with 2:52 left in regulation, as Saponari collected a wide redirect from the stick of Bonino and found Connolly at the left faceoff dot, where he beat Cannata high blocker side for his 10th goal of the year.