Tuesday, November 17, 2009
PROVIDENCE TOPS BROWN IN MAYOR'S CUP, 4-3
Junior Matt Germain scores two goals for Friars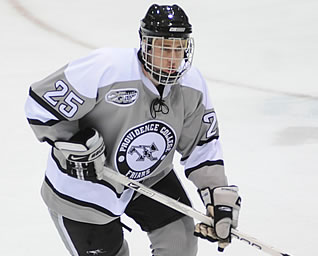 Matt Germain scored two goals for the Friars
PROVIDENCE, R.I. - The Providence College men's hockey team jumped out to a 4-1 lead and held off Brown University, 4-3, in the 24th Annual Mayor's Cup played at Schneider Arena. With the win, the Friars improved to 6-3, while Brown is 0-5-1. The Friars now hold a 14-8-2 edge in the Mayor's Cup.
Providence jumped out to 2-0 first period on goals by sophomore Matt Bergland (Faribault, Minn.) and junior Matt Germain (Rockland, Mass.). Just 3:45 into the period, senior Mark Fayne (Sagamore Beach, Mass.) ripped a shot from the point that was saved by Mike Clemente, however, Bergland pounced on the rebound and calmly tucked a back hander into the back of the net for a 1-0 lead. It marked his team leading sixth goal of the season. PC added to its lead at 15:47 when David Brown (Centennial, Colo.) slipped a cross ice pass to Germain who tapped the puck into the empty net.
Brown created more scoring chances early in the second as they had three power plays, including a pair of two-men advantages. At 8:48, Jordan Piertus scored on the power play off a feed from Harry Zolnierczyk to cut the lead in half (2-1). The Friars responded just over five minutes later and regained their two-goal lead at 13:51. PC kept the puck in the Brown zone for nearly a minute and junior Kyle MacKinnon (Walnut, Calif.) gained possession of the puck at the high slot. MacKinnon then fired a wrist shot that was re-directed into the net by classmate Ian O'Connor (Londonderry, N.H.). Germain scored his career-high second goal of the night 1:36 of the third period to give PC a 4-1 lead. The goal came from nearly the exact spot as his first goal. Fayne ripped a shot from the right point that was saved by Clemente, but Germain was there at the bottom of the left circle and roofed a high wrist shot for his third goal of the season.
The Bears cut the lead to 4-2 at 8:48 as Chris Zaires scored his first goal of the season. Devin Timberlake and Aaron Volpatti assisted on the goal. Brown pulled Clemente for an extra skater and the moved paid off as Pietrus scored his team-leading fourth goal of the season to trim PC's edge to 4-3 with 1:11 remaining. The Friars had several chances to put the game away with an empty-net goal and could not convert, however they held off the Bears to earn their third consecutive Mayor's Cup trophy.
PC finished with a 38-27 advantage in shots as Clemente had 33 saves. Sophomore Alex Beaudry (Cumberland, Ontario) recorded 24 stops.
The Friars are back in action on Friday, November 20, while Brown hosts Yale on Saturday, November 21.