Saturday, October 24, 2009
PROVIDENCE SWEEPS BOWLING GREEN WITH 3-1 VICTORY
Eric Baier scores game winner; Justin Gates makes 31 saves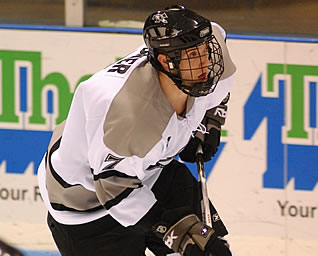 Eric Baier scored the game-winner for the Friars
BOWLING GREEN, OHIO - The Providence College men's hockey team broke a 1-1 tie with two goals late in the third period and defeated Bowling Green State, 3-1, Saturday night at the BGSU Ice Arena in Bowling Green, Ohio. With the win, the Friars improved to 4-1 for the first time since 2003.
With 3:46 left in the third period and the game deadlocked at 1-1, junior Eric Baier (North Kingstown, R.I.) scored his first goal of the season to give PC the lead for good. Sophomore Matt Bergland (Faribault, Minn.) played the puck to the point to Baier, who rifled a one timer over the shoulder of BGSU goaltender Andrew Hammond. Classmate Ian O'Connor (Londonderry, N.H.) added an empty-net goal with 47 seconds left to complete the scoring.
The Falcons (0-4) took the lead at when James Perkin scored his first goal of the season on a quick shot from the slot at the 13:15 mark of the first period. Tommy Dee assisted on the goal. The Friars responded just 1:08 later on a goal by junior Matt Germain (Rockland, Mass.). Classmate Jordan Kremyr (Cloverdale, B.C.) skated down the left wing and slid the puck towards the slot to Germain, who fired a shot that took a deflection and into the net to tie the game at 1-1. It marked Germain's first goal of the season.
The Friar penalty kill played a key role in keeping the Falcons from taking the lead in the latter half of the second period. PC had to thwart 1:48 of a 4-on-3 BGSU power play and then stopped the Falcons on a five-minute man advantage opportunity as sophomore goaltender Justin Gates (Cranston, R.I.) made several big saves. Gates finished with 15 stops in the second period. Gates and the PC penalty kill continued to thrive as they stopped the Falcons' 5-on-3 opportunity halfway through the third period. Gates, who finished with 31 saves (two short of his career high), earned his first win of the season.
The Friars are back in action on Friday, October 30 when they open their Hockey East schedule against the University of Massachusetts at Schneider Arena.