Wednesday, December 30, 2009
MASSACHUSETTS TOPPED BY BENTLEY, 4-1, AT UCONN CLASSIC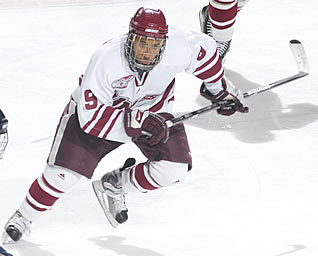 Shawn Saunders had an assist for the Minutemen
STORRS, Conn. - UMass' Kevin Czepiel scored his first career goal, but it was Bentley's Kyle Rank who made 42 saves earning UConn Toyota Classic MVP honors as the Falcons up-ended the Minutemen 4-1 on Wednesday night in the championship game at Freitas Ice Forum. UMass will face Boston University on Saturday at 4 PM with the game being televised nationally on ESPNU.
The Minutemen (11-6-0) outshot the Falcons 43-to-16 for the game, but managed just the one goal. UMass also struggled on the power play going 0-for-3 on the night, while Bentley (8-7-3) was 1-for-3.
Czepiel, a naitve of Holyoke, scored his first career goal at the 10:52 mark of the second period as he stuffed home a loose puck inside the left post.
Brett Hartung evened the score almost two minutes later and the team's went into the second intermission tied 1-1.
The third period was all Bentley as Bobby Preece scored a power play goal at the 7:28 mark before Jeremy Robert added another goal 24 seconds later to put the Falcons up 3-1.
UMass pulled goalie Paul Dainton with 2:24 remaining but a loose puck escaped the Minutemen offensive zone and the Falcons found Dustin Cloutier who iced the game with an empty net goal to make it 4-1.
James Marcou picked up an assist on the night extending his point streak to nine straight games and moved into second all-time at UMass for career assists (81) with Warren Norris. He ranks fifth all-time now at UMass in career points with 109 in 92 career games.