BOSTON COLLEGE ADVANCES TO FROZEN FOUR WITH 9-7 WIN OVER YALE
Cam Atkinson and Joe Whitney each post four-point games for Eagles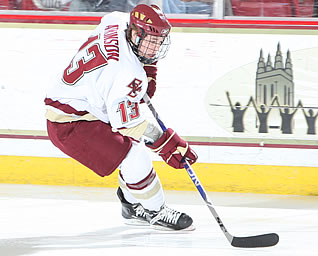 Cam Atkinson had three goals and an assist for BC
WORCESTER, Mass. - Cam Atkinson registered a hat trick and a career-high four points to lead Boston College to a 9-7 victory over Yale in the 2010 NCAA Northeast Regional final before 6,054 fans in the DCU Center.
Atkinson's line, joined by juniors Joe Whitney and Brian Gibbons, accounted for 10 points - six goals and four assists - to pace the Eagles' offense.
The victory propels BC to its 22nd Frozen Four berth, its ninth in the last 13 seasons under head coach Jerry York and the third for its four-member senior class - Matt Price, Ben Smith, Matt Lombardi and Carl Sneep.
The Eagles will play at Ford Field in Detroit, Mich., on Thursday, April 8 against the winner of the Miami - Michigan game.
BC, which never trailed and held leads of 2-1 after one period and 6-4 after two periods, scored its most goals since Oct. 15, 2005 - a 9-6 win at Bowling Green.
The Eagles scored three straight in the third period's first 7:16, including two goals in 23 seconds off the stick of sophomore Jimmy Hayes, to take a 9-4 lead.
Yale responded with the game's final three goals to bring the Bulldogs within two goals and the 9-7 final.
Atkinson led all BC scorers with three goals and one assist to reach the 50-point plateau (27 goals, 23 assists) while registering his third hat trick in the last 10 games.
Whitney matched Atkinson with four points - two goals and two assists - while Gibbons tallied one goal and one assist.
Two defensemen - Edwin Shea and Carl Sneep - added multiple-point performances for the victors, who have won seven in a row.
Junior John Muse made 32 saves to register his 60th career win and his 15th in 16 postseason games.
Yale's Mark Arcobello tallied a game-high six points - three goals and three assists - while Brian O'Neill finished with two goals and two assists and Andrew Miller notched four assists.
Starting goalie Ryan Rondeau made 18 saves in 30:46. Replacement Billy Blase stopped eight shots in 13:30 and Jeff Malcom, the Bulldogs' third goalie of the game, stopped four shots in 13:17.
Team Records: Yale - 21-10-3; Boston College - 27-10-3.
Game Notes: Boston College improved to 26-4 in the NCAA Tournament under head coach Jerry York ... Hayes' two goals in 23 seconds are the fastest consecutive goals scored by the same player in an NCAA regional game and the fifth fastest in NCAA Tournament history ... BC's seniors improved to 23-2 in four years of postseason competition and 25-3-2 in four months of March.