VERMONT NOTCHES 4-1 WIN AGAINST BOSTON COLLEGE
Colin Vock and Chris McCarthy each register goal and assist for Catamounts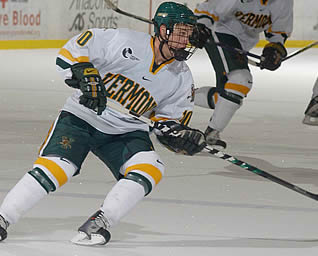 Colin Vock had a goal and an assist for Vermont
BURLINGTON, Vt. - No. 11 Vermont went 8-for-8 on the penalty kill and sophomore goalie Rob Madore (Pittsburgh, Pa.) stopped 22 shots as the Catamounts defeated No. 12 Boston College 4-1 in front of a sellout crowd at Gutterson Fieldhouse on Sunday night in the Hockey East opener for both teams. Vermont improved to 2-1-0 (1-0-0 HEA) on the season and 4-0-2 in its last six games at home against the Eagles (0-1-0, 0-1-0 HEA).
Senior Colin Vock (Detroit, Mich.) and freshman Chris McCarthy (Collegeville, Pa.) each had a goal and an assist for the Catamounts (2-1-0, 1-0-0 HEA). Senior co-captain Brian Roloff (West Seneca, N.Y.) notched a power-play goal and junior Wahsontiio Stacey (Kahnawake, Que.) also scored.
Junior Joe Whitney scored for BC at 4:36 of the opening period before Vermont responded with four unanswered goals.
"Obviously a great win for our team," Vermont head coach Kevin Sneddon said. "I thought we struggled a little bit in the early going; BC came at us pretty hard, with their speed and their skill and kind of put us back on our heels. But I thought as the game wore on we showed some really improved defense."
"I really think the storyline for the game, at least in my opinion was us capitalizing on the few chances that we had and really our penalty kill," Sneddon added. "That includes our goaltender who I thought was sensational tonight. Anytime you give Boston College eight power plays and hold them to five shots and knock down all eight, that certainly is a good sign for our penalty kill."
Trailing 1-0 in the opening period, Roloff tied the game for the Catamounts on the power play at 17:31. MacCarthy and junior Jack Downing (New Canaan, Conn.) setup Roloff at the right post for his second goal of the season.
Vermont took its first lead less than a minute later on Vock's second goal of the year. Senior assistant Patrick Cullity (Tewksbury, Mass.) setup the goal with a between the legs pass from below the goal line to Vock at the left post at 18:31. Senior Brayden Irwin (Toronto, Ont.) also assisted.
McCarthy extended the lead to 3-1 for the Catamounts at 15:35 of the second period. He broke in behind the BC defense on a feed by Downing and beat John Muse (16 saves) with a shot from his knees as he got tangled up with defenseman Carl Sneep.
"He's just a great player obviously to get open like that; it was a nice feed and just a willingness to stay on the puck," Sneddon said. "He was kind of getting hauled down, he stuck with it and I thought he had a great first game."
Stacey finished off the scoring for Vermont at 7:39 of the third period to make it 4-1. Vock and junior Kyle Medvec (Burnsville, Minn.) both assisted.
The Catamounts held the Eagles to just five shots in the final period. In addition to stopping all eight BC power plays, the Catamounts also blocked 18 shots.
Vermont returns to action next Friday at Merrimack at 7 p.m. Boston College visits Notre Dame on Friday at 7:35 p.m.
NOTES: Check back to www.UVMathletics.com for game highlights and postgame comments from Kevin Sneddon, Rob Madore and Chris McCarthy ... Tonight's game was televised on ESPNU ... Vermont has scored at least four goals in three straight games for the first time since Nov. 17 through Nov. 25 in 2007 ... The Catamounts are 3-2-2 in home openers under Kevin Sneddon ... Vermont has sold out 95 of its last 103 home games ... The Catamounts went 1-for-6 on the power play ... Vermont is unbeaten in 52 of its last 54 games when scoring at least four times.