Saturday, November 14, 2009
BOSTON COLLEGE SKATES PAST VERMONT, 7-1
Jimmy Hayes registers four assists for Eagles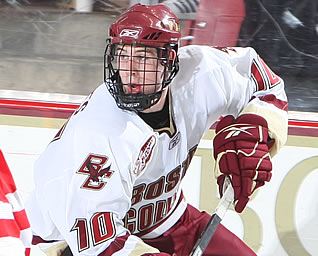 Jimmy Hayes had four assists for the Eagles
CHESTNUT HILL, Mass. - Freshman Steven Whitney scored his first two collegiate goals and sophomore Jimmy Hayes recorded four assists to lead Boston College to a 7-1 Hockey East win over Vermont before 4,988 fans in Kelley Rink.
Sophomore Tommy Cross registered one goal and two assists, while junior Joe Whitney and sophomore Paul Carey each totaled one goal and one assist for the Eagles.
BC led 2-1 after one period and 4-1 after two periods, before adding three goals in the first 10 minutes of the final frame.
The Eagles scored on 3-of-4 power-play opportunities, while limiting the Catamounts to one man-advantage tally on seven chances.
Steven Whitney opened the scoring with a power-play goal at 2:45. After Vermont junior Kyle Medvec evened the score with a power-play goal at 10:13, the freshman Whitney gave BC the lead for good with a goal at 19:37.
Joe Whitney, Steven's older brother, extended the margin at 4:32 of the second period, and Cross gave BC a 4-1 cushion with a power-play goal at 15:29.
Freshman Chris Kreider, senior Ben Smith (PPG) and Carey each added one goal in the third period.
BC junior John Muse made 30 saves to earn his third win of the season. Vermont sophomore Rob Madore made eight stops in two periods, while senior Mike Spillane recorded four saves in the final 20 minutes.
BC and Vermont will play the final game of their three-game regular-season series tomorrow (Nov. 15) at 4 p.m. in Kelley Rink.