BOSTON COLLEGE SHUTS OUT VERMONT, 3-0, IN HOCKEY EAST SEMIFINALS
Junior netminder John Muse stops 30 shots for Eagles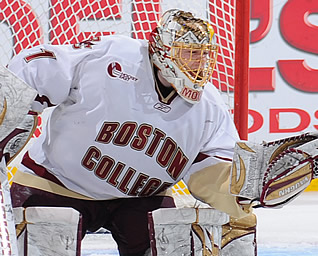 John Muse made 30 saves in the Boston College net
BOSTON, Mass. - No. 2 seeded Boston College moves on to its 14th appearance in the Hockey East championship contest with a 3-0 shutout against No. 8 seeded Vermont on Friday night at the TD Garden.
OTHER LINKS: Jerry York Audio (mp3) - John Muse and Ben Smith Audio (mp3) - Kevin Sneddon Audio (mp3) - Rob Madore and Colin Vock Audio (mp3)
Sophomore Jimmy Hayes led the way with a goal and two assists while rookie Chris Kreider chipped in a goal and a helper to direct the Eagles' offense.
Boston College controlled the pace for the majority of the contest, outshooting the Catamounts, 33-30. Through two periods, BC held a 31-21 advantage in attempts.
Junior netminder John Muse picked up his second shutout of the season with 30 saves, upping his mark to 14-8-2 on the year. Sophomore Rob Madore turned aside 30 shots for the Catamounts as his win-loss total ends at 13-12-7 on the season.
Vermont administered the first chance of the game nearly a minute in following a BC turnover, but it was Boston College who took over from that point on.
The Eagles had three strong chances in the early goings, but their attempts went unrewarded. Hayes was thwarted on a wraparound attempt near the 5:30 mark while junior Joe Whitney nearly connected on a cross-ice dish on the next play. Sophomore Cam Atkinson found a seam minutes later, but couldn't finish off the breakaway attempt.
Kreider drew first blood at 15:49 on a put-back goal from Hayes' initial rip. Senior defenseman Carl Sneep snapped the puck out of the neutral zone to Hayes on the blue line. Hayes bounced it off of Madore's chest, but Kreider position himself perfectly on the right dot to give Boston College the 1-0 lead.
Hayes nearly made it 2-0 with a minute remaining in the first after fooling Madore out of the crease, but he ran out of room and met the side of the net instead of the back of it.
The second period was more of the same as BC rookie Brian Dumoulin started things off with a rifle from the point, Madore gloved it to keep the Eagles off the board early in the second.
Both teams exchanged a pair of powerplay opportunities in the second, but neither squad could take advantage of the extra skater. Both Vermont and Boston College displayed grade A chances, but luck did not go their way in those instances.
Senior Ben Smith was carted off for tripping at 9:23, but the Catamounts could not muster any pressure. As Smith was exiting the box, he intercepted the puck and picked his spot on Madore but was greeted by the far post at 11:30. A few exchanges later, UVM senior Colin Vock had a breakaway on Muse, but his deke did not dupe BC's goaltender.
Smith got revenge on the previous iron shot with only eight seconds remaining in the second period. Hayes earned his second assist on the night after supplying freshman Phillip Samuelsson with the puck in UVM's zone. Samuelsson rushed down the left side and linked up with Smith on the far post for the one-timer goal to double up, 2-0, at 19:52.
Boston College's forecheck yielded a coast-to-coast goal at 3:06 of the third to solidify the final score. Freshman Pat Mullane motored the puck out of Vermont's zone and connected with Kreider in stride. Kreider's attempt was stopped, but Hayes came in from behind and tipped in the carom for his third point of the game.
The shutout marks BC's third of the season. Boston College blanked Harvard in the first round of the Beanpot Tournament on Feb. 1, 6-0, and followed it with a 7-0 shelling of Merrimack on Feb. 23.
Boston College is 4-0 against Vermont in the Hockey East tournament and the No. 8 seed falls to 0-4 in the semifinal round.
The Eagles will meet up with the winner of the other semifinal contest, No. 3 Boston University vs. No. 4 Maine, in the 26th annual Hockey East championship game. Puck drop is schedule for 7 p.m. tomorrow, March 20, at the TD Garden.
Game Notes
- Jimmy Hayes had his second consecutive multi-point game with tonight's goal and two assist performance against the Catamounts. In the second quartefinal on Saturday, March 13, Hayes notched two assists in a 5-2 win over Massachusetts. It marked his sixth multi-point outing of the season. Hayes has tallied six points (2-4-6) in six career HEA tournament appearances.
- In two HEA tournament appearances against UVM, John Muse has not surrendered a goal. He stopped 29 shots in a 4-0 victory over Vermont in the 2008 HEA final contest. Muse now has three blankings in Hockey East tournament play. (2009 quarters vs. UNH and 2008 final vs. UVM)
- BC is now 14-4 all-time in the semifinals of the Hockey East tournament. The Eagles, owners of the most HEA tournament titles (8), have won five of their last six semifinal appearances and nine of their last 11. Since 1998, Boston College is 37-8 in HEA tournament play. All eight losses have come to either Boston University (5) or Maine (3).
- Carl Sneep extended his point streak to four games (1-3-4) with the assist.
- Ben Smith's second period goal (13th of the year) was his first of the 2010 Hockey East tournament. Among active players, Smith is the current scoring leader with 7-7-14 over 14 games played. He had a helper in the March 12 quarterfinal win over UMass (6-5). In 14 career games played at the TD Garden, Smith has posted 14 points (7-7-14). In 2009-10, the total stands at four (2-2-4).
---
2010 Hockey East Semifinal
Boston College Post-Game Quotes
Head Coach Jerry York General Comments I think these types of games are always fun to play in, always fun to coach. There's a lot on the line, looking at the Lamoriello Cup down the road - the winning team has the chance to win it and earn an NCAA appearance, so I think it really ratches up the intensity, the emotion and the general interest from fans, coaches and players.
I thought the game this evening, we played really well. Madore was exceptionally sharp early and kept it at 1-0. I thought one of the real turning points in the game was John Muse's save on the breakaway in the second period to keep it 1-0 and allow us to then go ahead with the late goal by Ben Smith to send us into the locker room with a two-goal lead. That's an amazing turn of events, you know. If that player is able to beat John, then it's 1-1 and who knows if we have the capability to score with seven seconds left in the period.
I thought John's play was superb from the start to the finish of the game. I thought Ben Smith's line was our impetus up front. They cycled pucks really well, they used their size and strength and were a dominant line for us in the game.
Looking at Vermont, it was really difficult for us to control (Brayden) Irwin. That's the best I've seen him play in the four years he's played and we really dodged some bullets with him coming through the neutral zone. He's an impact player in the game.
But I think John's really good performance and offensively Ben Smith's line led the way for us.
Ben Smith
On his line clicking from the start of the game: I think we were just trying to start down low, play hard down low below their net and we've been cycling the puck well and overlapping to create offense. Chris Kreider and Jimmy Hayes are coming on really strong and they're a huge part of our line's success.
On "Eagle Hockey": I think something that's been a characteristic of our teams over the last four years is that we can play all types of hockey. We can play that grinding game or that run and gun game - that has worked really well for us since I've been here for the last four years. "Eagle hockey" just means playing fast, playing gritty. Trying to keep play at our pace and I think tonight we did a good job of that.
John Muse
On saving the puck on Colin Vock's breakaway to keep it 1-0 in the 2nd: They made a nice play and flipped it to (Vock) in the neutral zone and he came in and tried to go forehand/backhand but I was able to push over and stay with him.
On team depth: We have great depth; all four of our lines can skate with anyone. We have three sets of D pairings that can go out and play with any line in the country. When you get to the playoffs, you need people to step up each and every game and I think it's shown how much depth we have over the last three games in the playoffs where it hasn't been the same line every night. It's been different lines each night that have been leading the way.
---
2010 Hockey East Semifinal
Vermont Post-Game Quotes
Head Coach Kevin Sneddon
General Comments I want to congratulate Boston College on their win and advancing to the Championship game. I'm certainly disappointed for our guys, you know, I thought they played their hearts out, but unfortunately we had to be perfect tonight to beat that team and I think we needed to have our best game of the year and I don't think we did. Certainly the second period we picked it up. In the first period, they had us back on our heels pretty good and we couldn't get anything going. I think the real turning point was the goal with seven seconds to go; we could have gone into the third period down 1-0 and instead, it was 2-0. That was a tough turning point for us, but I give our guys credit. They battled hard to try to mount a comeback, but unfortunately they just fell short. I think John Muse played great, and I think Robby Madore down at the end was sensational again. We needed him early on - it could have been 3-0 or 4-0 at the end of the first and he kept us in it.
On BC's dominance in the first and Vermont's reaction in the second: In the first, I think we just got away from the things that have made us successful this season. We talked about getting pucks out, pucks deep and playing physical. I thought we played pond hockey in the first. We didn't make them play the price at all. I think we stood around, kind of watching them in amazement. We all felt like there were seven Boston College guys out on the ice. They were just flying out there. We didn't do a very good job of playing defensively in our own zone and certainly didn't play as physically as we wanted to. But I think once we addressed it, we regrouped and talked to our guys about it and thankfully Rob kept it 1-0 and it could have been a lot worse.
I thought we did a great job for 19:53, we played pretty good hockey in the second period. Unfortunately, we just made a really, really bad decision off that faceoff play and good teams capitalize on that. And (BC) is a good team.
Colin Vock
On BC's dominance in the first and Vermont's reaction in the second: Thanks to (Rob Madore), it was only 1-0 after that first period but with our systems, we tried to focus on getting the puck deep and generating our offense. We tried not to focus on what the score was and just tried to keep going.
On not being able to get key shots/plays: I know for myself, I had a breakaway with a minute left in the (first) period that could have changed the game around and made it 1-1. Maybe if we had buckled down a little better and stuck to our systems more, there could have been a different outcome.
Rob Madore
On not being able to get key shots/plays: I agree with what Colin said. (BC) executed their systems really well and capitalized on their chances and John Muse made some big saves when he needed to and I think that was the difference.
PHOTO GALLERY