Friday, February 12, 2010
UMASS LOWELL NOTCHES 4-1 WIN OVER BOSTON COLLEGE
Carter Hutton picked up 34 saves for the River Hawks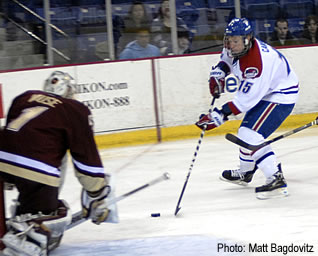 Scott Campbell scores an early power-play goal for UMass Lowell
LOWELL, Mass. - The #20 River Hawks (15-12-2, 9-9-2 HE) scored a crucial victory over #10 Boston College (16-9-2, 11-7-2 HE) on Friday night, clinching the season series with the Eagles. Carter Hutton (Thunder Bay, Ont.), selected as Hockey East's number one star of the game, made 35 saves to hold off the highly potent Boston College offense.
OTHER LINKS: Blaise MacDonald and Carter Hutton Postgame Audio
UMass Lowell came out firing, picking up a power play goal from Scott Campbell (Navan, Ont.) just 3:01 into the contest. Hutton stopped the puck behind the net and Chris Auger (Belleville, Ont.) fired a pass up ice for Campbell at the Eagles blue line. The junior forward skated in on goaltender John Muse (East Falmouth, MA) and squeezed a shot short-side for his 10th score of the year.
It took some time, but Boston College eventually evened the score with a power play goal of its own at 8:05 into the second period. Off of the face off, Steven Whitney (Reading, MA) passed the puck to his brother Joe Whitney (Reading, MA), who ripped a shot from the middle of the blue line past Hutton. The goal was Whitney's 11th on the campaign.
The River Hawks managed to reclaim the lead near the end of the second period on another man advantage score, due to several excellent passes close in on the net. David Vallorani (Hamilton, Ont.) hit Auger on the near post and he quickly passed the puck to the weak-side for Patrick Cey (Saskatoon, Sask.) to knock in. Cey's second goal of the season gave UMass Lowell a 2-1 lead.
The intense third period yielded zero scores for either club for the first 19 minutes, but the River Hawks put the nail in the coffin with a pair of empty net goals in the final moments.
Riley Wetmore (Swanton, VT) picked J. Whitney's pocket just inside the UMass Lowell blue line and snapped off a wrist shot on his breakaway in Eagle's territory. Michael Budd (Burlington, Ont.) scored as time was expiring after Ben Holmstrom (Colorado Springs, CO) knocked the puck loose towards center ice.
Hutton played spectacular in goal, stopping 34-of-35 shots on net to improve to 9-8-0 on the campaign. Boston College's Muse allowed two goals while making 22 saves to slide to 11-7-2 on the season. The Eagles outshot the River Hawks, 35-26, while finishing one-for-seven on the power play. UMass Lowell was two-for-eight with the man advantage.
The two clubs will skate once again tomorrow evening, switching the venue to the Conte Forum in Boston. The puck will drop early, hitting the ice at 5 p.m.