BOSTON COLLEGE ADVANCES TO HEA SEMIFINALS WITH 5-2 WIN OVER UMASS
Sophomore Barry Almeida posts two goals and assist for Eagles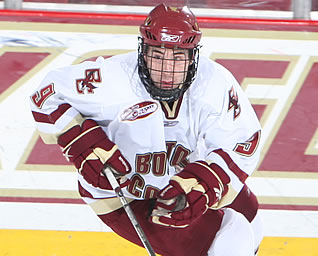 Barry Almeida had two goals and an assist for BC
CHESTNUT HILL, Mass. - Sophomore Barry Almeida registered two goals and one assist and junior goalie John Muse stopped 16 shots to lead fourth-ranked Boston College to a 5-2 series-clinching victory over Massachusetts before 3,148 fans in Kelley Rink.
The Eagles captured the best-of-three Hockey East quarterfinal-round series. BC had defeated Massachusetts, 6-5, one night earlier. BC now advances to the semifinal round for the sixth consecutive year.
Boston College used three third-period goals to snap a 2-2 tie and earn the win.
"Both teams played really hard tonight. That was as physical a game as we have been in all year, as far as good, solid hits," BC head coach Jerry York said. "It is always hard to take sticks away from another team. Everyone wants to continue to play hockey and that makes the quarterfinal series one of the most difficult that we have. It seems that way every year, whether you have home ice or you're the visiting team. The games are so close."
Senior assistant captain Matt Lombardi intercepted a Massachusetts pass in the offensive zone and netted the decisive goal at 2:11.
"Matt Lombardi has been a really hard-nosed player for us and you never know when the goals are going to come from him," York said. "This was probably the most important goal so far this year. It was his first game-wining goal. It was a great effort and he was well rewarded."
Sophomore Paul Carey added an insurance goal at 9:34 and Almeida tallied an empty netter with 22.6 seconds to play.
The teams traded goals through the first two periods. After Almeida opened the scoring 5:37 into the contest, Massachusetts sophomore Casey Wellman evened the score at 12:18.
In the second period, both teams scored on the same power-play. BC gained a 2-1 edge on senior Carl Sneep's shorthanded goal at 12:42, before Wellman scored the equalized - on the power play - 33 seconds later.
BC had a 27-18 shot advantage, including a 9-3 margin in the third period.
Massachusetts junior Paul Dainton made 22 saves.
Boston College will return to action in the Hockey East semifinal round in TD Garden on Friday, March 19. Game time and opponent are to be determined.
"I am extremely proud and happy to take my team to the Garden next week," York concluded.
Team Records: Boston College 23-10-3; Massachusetts 18-18-0
Game Notes: Almeida matched his career high with three points - two goals and one assist - and was a game-high +4 in the contest ... Lombardi's game-winning goal marked the first decisive score of his 139-game career ... Sneep's shorthanded goal marked the second of his 151-game career. The Nisswa, Minn., native tallied his first shorthanded on his first collegiate goal on Jan. 7, 2007 in a 3-1 home win over Providence ... BC improved to 49-23-2 (.676 win percentage) in 26 Hockey East Tournament appearances, including a 40-11-1 record (.779 win percentage) under Jerry York ... BC concluded its 2009-10 season with a 14-2-0 record in Kelley Rink, tying the 1999-2000 team (14-2-1) and the 2003-04 team (14-3-1) for most home wins un a season under York. Fourteen wins is the second-highest win total in Kelley Rink's 22-year history. The 1989-90 team, led by captain Greg Brown, won a single-season best 18 home games (18-5-0).