ATKINSON HAT TRICK LEADS EAGLES PAST MINUTEMEN, 6-5
Sophomore Cam Atkinson has three goals and assist for Boston College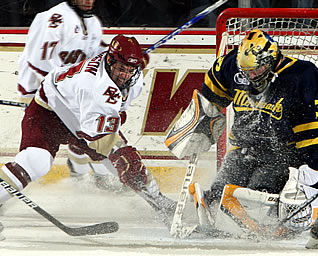 Cam Atkinson had three goals and an assist for BC
CHESTNUT HILL, Mass. - Sophomore Cam Atkinson registered a hat trick, freshman Steven Whitney scored the game-winning goal and added two assists while older brother Joe Whitney notched three assists, including his 100th career point, to lead fourth-ranked Boston College to a 6-5 victory over Massachusetts in game one of a best-of-three game Hockey East quarterfinal series before 2,888 fans in Kelley Rink.
Atkinson finished the game with four points, recording the primary assist on Steven Whitney's decisive score that came on the power play at 18:54 of the second period and gave the Eagles a 6-3 lead.
The visiting Minutemen scored twice in the opening minute of the third period to cut their deficit to one goal.
Senior defenseman Martin Nolet scored 34 seconds into the final frame and junior James Marcou trimmed the lead to one goal - at 6-5 - 20 seconds later, but the visiting Minutemen, who outshot the Eagles 14-7 in the third period and 38-32 in the game, could not net the equalizer.
BC and Massachusetts traded the game's first four goals before the host Eagles scored three straight in the second period in a span of just 1:56 to take a 5-2 lead.
Freshman Chris Kreider netted his 13th goal of the season at 6:18, sophomore Barry Almeida scored just more than one minute later and Atkinson connected for the hat trick on the power play at 8:22.
BC led 6-3 after two periods after Massachusetts forward Casey Wellman and BC's Steven Whitney traded power-play goals late in the period.
The Eagles finished 3-for-4 on the power play, while Massachusetts went 2-for-5 with both power-play tallies coming while skating with a 5-on-3 advantage.
Marcou led six different multiple-point scorers for the Minutemen with three points - one goal and two assists. Forwards Casey Wellman, T.J. Syner and defenseman Justin Braun each tallied one goal and one assist, while forward Kevin Czepiel and defenseman Matt Irwin each registered two assists.
BC freshman goaltender Parker Milner recorded 33 saves to earn his 10th win of the season. He improves to 10-2-1.
UMass goaltender Paul Dainton stopped 26 shots in 58:33. He falls to 15-14-0.
The teams will return to Conte Forum and the Kelley Rink ice in game two of the league quarterfinal series on Saturday, March 13 at 7 p.m.
Team Records: Massachusetts - 18-17-0; Boston College - 22-10-3.