BOSTON COLLEGE TOPS MASSACHUSETTS, 3-1
Cam Atkinson scores two goals for Eagles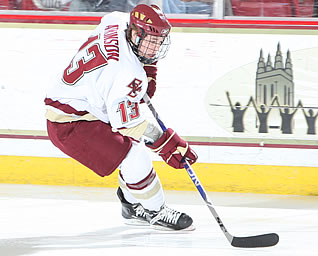 Cam Atkinson scored two goals for Boston College
AMHERST, Mass. - Cam Atkinson scored two goals to lead No. 15 Boston College to a 3-1 win over No. 9 Massachusetts in front of 8,169 fans at the Mullins Center Friday night. James Marcou scored the lone goal for UMass (9-4-0, 5-3-0 HEA), while Paul Dainton made 29 saves in goal. Parker Milner made 23 for the Eagles (7-3-2, 5-3-2 HEA). The Minutemen will travel to rival UMass-Lowell Saturday night at Tsongas Arena for a 7 PM faceoff.
The crowd of 8,169 was the fifth largest crowd in UMass Hockey history. Boston College outshot the Minutemen 32-24, including a 16-6 advantage during the second period. UMass was 1-for-4 on the power play and the Eagles were 1-for-5. Boston College also held a 32-19 faceoff advantage.
Both teams came out hard in the first period, generating 11 shots and scoring one goal a piece. The Eagles were whistled for a penalty two minutes into the frame, giving UMass an early power play opportunity. Marcou wasted no time in getting the Minutemen on the board, digging the puck out of the corner and backhanding it through Milner's legs just 17 seconds into the man-advantage.
Boston College responded with the tying goal seven minutes into the frame on Cam Atkinson's fifth goal of the season. After receiving a pass from Pat Mullane, Tommy Cross took a shot from the point that Dainton knocked down with his glove, but Atkinson was waiting for the rebound at the right post and pounded it home for the score.
The Eagles took control during the second period, outshooting Massachusetts 16-6 and pinning the Minutemen in their defensive zone for most of the period, forcing Dainton to make several big stops. Brian Gibbons gave the Eagles a 2-1 lead with 6:44 remaining in the stanza. Ben Smith took a chip and dished it to Gibbons heading into the UMass end. Gibbons then settled the puck before roofing a wrist shot over Dainton's shoulder for his fourth goal of the season.
UMass had its chances during the third period, moving the puck around the zone and creating significant scoring chances. Milner, however, refused to allow the Minutemen to net the tying goal. A five-minute hitting from behind call with four minutes to play put Massachusetts on the penalty kill for the remainder of regulation. Atkinson put the game out of reach with 59 seconds to play when he snapped a shot under Dainton's arm for his second goal of the night.