FIVE-GOAL FIRST PERIOD PROPELS EAGLES PAST FRIARS, 5-2
Cam Atkinson has two goals and an assist for Eagles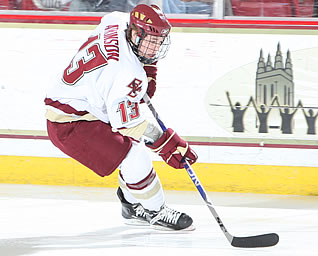 Cam Atkinson had two goals and an assist for BC
CHESTNUT HILL, Mass. - Sophomore Cam Atkinson recorded two goals and one assist to lead Boston College to a 5-2 Hockey East win over Providence before 5,832 fans in Kelley Rink.
Atkinson's line - joined by juniors Joe Whitney and Brian Gibbons - totaled eight points. Whitney registered one goal and two assists, while Gibbons had two assists. This trio has now accounted for 26 points - 10 goals and 16 assists - in the last five games.
BC led 5-1 after one period. Providence added a late goal to account for the final tally.
Sophomore Barry Almeida put BC ahead 1-0 just 62 seconds into the contest. Providence senior David Cavanagh evened the score just 37 seconds later.
BC finished the period with four goals. After Joe Whitney scored at 5:36, Atkinson netted the first of his two scores - on the power play - at 11:53. Freshman Steven Whitney gave BC a 4-1 advantage with a power-play goal at 15:16. Atkinson completed the BC scoring at 17:47.
"For most of the game I thought our club had a lot of jump. We managed the puck very well and made some good passes and some good plays," BC head coach Jerry York said.
After a scoreless second period, Providence sophomore Rob Maloney netted the final goal at 15:50.
Boston College outshot Providence 14-7 in the first period and 14-6 in the second period. Each team totaled eight third-period shots.
BC junior John Muse stopped 19 shots to earn his eighth win of the year and the 51st of his collegiate career. Providence sophomore Alex Beaudry made nine saves in one period. Classmate Justin Gates made 22 saves in the final 40 minutes.
"John Muse was called upon and made some good saves. It was a good combination," York said. "We had a good start and put a few goals on the board and continued to play very well until the last seven or eight minutes of the game when I think we started to sag."
Next, Boston College will face Harvard in the first round of the 58th Beanpot on Monday, Feb. 1 at 5 p.m.
Team Records: Boston College 13-8-2, 10-6-2 Hockey East; Providence 9-14-1, 4-12-1 HE
Game Notes: Brian Gibbons extended his scoring streak to eight games (4-8--10) ... Atkinson matched career highs with two goals and three points.