Saturday, December 12, 2009
BOSTON COLLEGE HOLDS OFF PROVIDENCE, 3-1
BC's John Muse makes 28 saves - including 17 in third period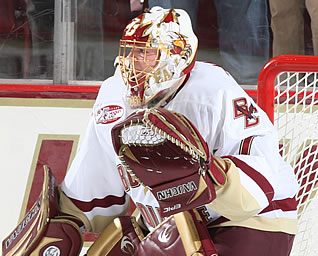 John Muse made 28 saves for the Eagles
PROVIDENCE, R.I. - The Providence College men's hockey team (7-9-1, 2-7-1 Hockey East) was defeated by No. 10 Boston College (10-3-2, 7-3-2 Hockey East), 3-1, Saturday night in a Hockey East game played at Schneider Arena.
The Eagles took a 1-0 first period as they converted on their first power-play opportunity. Steven Whitney played the puck from behind the PC net to Cam Atkinson who fired a one-timer past PC sophomore goalie Alex Beaudry (Cumberland, Ontario) at 17:31. Joe Whitney also assisted on the goal.
BC nearly struck again just 35 seconds into the second period when Chris Kreider stole the puck in the PC zone and fired a shot from the slot, but Beaudry made a glove save. However, the Eagles doubled their lead at 8:32 when Pat Mullane lifted a back hander into the net as Patrick Wey assisted on the goal.
In the third period, the Eagles increased their lead to 3-0 when Tommy Cross tucked the puck past Beaudry for his third goal of the season at 2:49. PC junior Kyle MacKinnon (Walnut, Calif.) cut the lead to 3-1 at 15:55 when he fired a shot that took a deflection and found its way into the net. It marked MacKinnon's seventh goal of the season which is tied for the team lead. Sophomore Matt Bergland (Faribault, Minn.) and freshman Myles Harvey (Orlando, Fla.) assisted on the goal. For Harvey, it marked his first collegiate point.
The Friars outshot the Eagles, 29-27, as John Muse made 28 saves. Beaudry finished with 24 stops.
The Friars will not play until January 12, 2010 when they travel to Boston College. The Eagles will play St. Lawrence on January 1.