Sunday, February 21, 2010
GIBBONS LEADS BOSTON COLLEGE TO 7-1 WIN AGAINST NORTHEASTERN
Junior forward Brian Gibbons joins Boston College Century Club with 3 goals and assist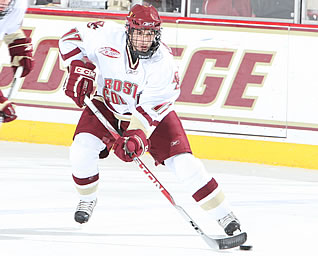 Brian Gibbons had three goals and an assist for BC
CHESTNUT HILL, Mass. - Junior Brian Gibbons registered a hat trick, including his 100th career point, to lead Boston College to a 7-1 Hockey East win over Northeastern before 6,180 fans in Kelley Rink.
Gibbons, who scored one goal in each period, attained the milestone on the only goal of the first period - at 19:32. The Braintree, Mass., product became the 93rd player in school history to reach the vaunted 100-point plateau. Also recording one assist, Gibbons finished the contest with 103 points.
Boston College added four second-period goals, before the visiting Huskies closed the period's scoring with a power-play goal. The Eagles added two goals in the third period.
Freshman Pat Mullane doubled the BC advantage at 4:12, and classmate Chris Kreider gave BC a 3-0 lead at 5:57. Gibbons netted his second goal - on the power play - at 13:40.
Northeastern senior Kyle Kraemer scored a man-advantage goal at 15:20.
Gibbons completed his hat trick at 11:43, and sophomore Jimmy Hayes tallied with 20.5 seconds to play to account for the final margin.
Freshman Parker Milner made 22 saves to earn his seventh win of the season. Northeastern freshman Chris Rawlings stopped 39 of 45 shots in 51:43. Freshman Bryan Mountain made four saves in 8:17.