Friday, February 19, 2010
NORTHEASTERN EDGES PAST BOSTON COLLEGE, 3-2
Freshman Chris Rawlings stops 38 shots for Huskies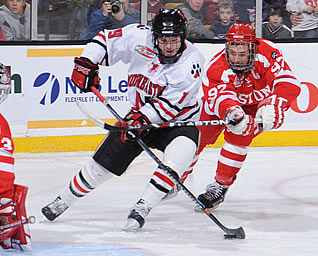 Wade MacLeod had a goal and an assist for NU
BOSTON, Mass. - Northeastern treated its capacity crowd of 4,666 to a 3-2 victory over #8/9 Boston College on Friday night at Matthews Arena. Another solid defensive effort from freshman goaltender Chris Rawlings along with sturdy penalty killing throughout solidified the Huskies fifth-consecutive win and sixth-straight Hockey East triumph.
After the rest of Hockey East's contests subsided, the Huskies assumed sole possession of fourth place, one point ahead of Boston University.
Senior Kyle Kraemer's second period blast stood as the game-winner, but junior Wade MacLeod provided his fourth multi-point effort in his last five games to anchor NU's offense. The Coquitlam, B.C. native scored his 13th goal and registered his 14th helper on Kraemer's game-winner to factor in heavily on the offensive end.
"Obviously this was just a great college hockey game and I'm very happy to win it," head coach Greg Cronin said. "Our penalty killing units did a great job and (Chris) Rawlings turned in another great performance."
Rawlings posted another banner performance, turning aside 38 Eagles' attempts in his 15th victory of the season. Rawlings has logged a plus-30 save total in his last three outings.
Boston College outshot Northeastern, 40-29, while Eagles' netminder John Muse suffered his eighth loss of the year. The Huskiesí penalty kill held off all four of BC's extra-man opportunities.
Junior captain Tyler McNeely jump-started the Huskies' offense with a transitional tally 1:50 into the game. A Boston College attempt caromed off of Rawlings pad out towards the blue line. McNeely instinctively skated towards the puck and evaded the Eagles' pursuit. McNeely broke away from the chase and pocketed a wrister in the top-right shelf for the 1-0 advantage. Rawlings picked up credit with the assist on the play.
Boston College held a 14-6 advantage in shots through the first frame thanks to back-to-back powerplays. Freshman Drew Ellement was cited for interference at 13:34 while junior Steve Silva was sent off for obstruction tripping at 15:35. The Huskies' penalty killing corps staved off BC's attempt at switching the momentum.
Pat Mullane leveled the count at 6:54 of the second period. Boston College took control on a turnover and Joe Whitney's original blast rimmed around the boards in a perfect position for Mullane. Mullane corralled the puck and backhanded it past Rawlings.
Brian Gibbons was issued a double minor for a vicious hit down low on MacLeod, yielding a four-minute man advantage at 14:33 in the second session. Over a minute later, MacLeod wrapped the puck out from behind the net out to the point to freshman Garrett Vermeersch. Vermeersch faked a shot from the blue line and slid the disc over to Kraemer on the right dot. Kraemer took one stride and lit the lamp to convert the powerplay and regain the lead, 2-1.
The Eagles controlled the puck on the next possession, but MacLeod intervened and stripped it from BC on Northeastern's blue line. MacLeod motored down the left side and manager to beat Muse on the blocker side to double up, 3-1, at 17:47 on the unassisted blast.
Chris Kreider trimmed Northeastern's lead, 3-2, at 9:53 of the third period. Boston College successfully cleared the puck out of its zone and caught the Huskies off-guard in the transition. Ben Smith lobbed it out to Kreider on the left wing, allowing room for an unattested snapshot to beat Rawlings.
Northeastern withstood heavy BC pressure through the remainder of the frame. BC skipper Jerry York signaled for a timeout at 18:28, but the Eagles were not able to tie it, giving the Huskies their fourth-straight win at Matthews Arena.
Northeastern and Boston College will take a break on Saturday and close out the regular season series on Sunday, Feb. 21 at 3 p.m. Sunday's contest at Conte Forum marks the second time the Huskies will be broadcast to a national television audience on ESPNU.
GAME NOTES - Friday's win marks the first time under Greg Cronin's tenure that Northeastern has won six-consecutive Hockey East contests.
- The last time Northeastern won five-straight games was near the start of the 2008-09 season. After a tie against Alaska-Fairbanks, the Huskies rattled off five straight from Oct. 11 to Oct. 25, 2008.
- Northeastern is 3-0 when Matthews Arena is sold out. The Huskies beat Bentley, 3-2, in the home opener on Oct. 16 and Boston University, 1-0, on Nov. 6. All three wins have come by one goal in front of the capacity crowd of 4,666.
- Northeastern knocked off its third-straight opponent ranked in the national polls.
- The Huskies are 13-1-1 when scoring first. The only game in which the Huskies lost when potting the first goal was at Boston College on Nov. 7 (5-1).
- NU has not lost at Matthews Arena since Jan. 10 against Massachusetts (4-1).
- Tyler McNeely scored his ninth point in his last six games, including four goals and five assists.
- Chris Rawlings notched second assist in his last three games
- Rawlings has stopped 264-of-273 shots (.967) in his last nine games and only surrendered 11 goals amidst that stretch.
- Kyle Kraemer posted his fifth powerplay goal and eighth of his career. Kraemer's last ppg came in against Boston University in the Beanpot
- Since the first line of Kyle Kraemer - Justin Daniels - Tyler McNeely has been formed, the trio has tallied 24 points (12-12-24) over the course of their last 10 games as the first line unit. Breakdown → (Kraemer 4-4-8 - J. Daniels 3-1-4 - McNeely 5-7-12)
- Wade MacLeod has notched a multi-point game in four of his last five outings and five of his last nine. MacLeod's first unassisted goal of the season counted as the Huskies' fifth this year. - Freshman Garrett Vermeersch assumed the assists lead on Kyle Kraemer's game-winner. The Macomb, Mich. native has registered 15 helpers thus far.
- The last powerplay goal Northeastern has surrendered was on Feb. at Merrimack. It is NU's fourth-straight outing without surrendering a powerplay goal.