BOSTON COLLEGE TOPS MIAMI, 7-1, IN FROZEN FOUR SEMIFINALS
Eagles to face Wisconsin on Saturday; BC senior class captures 100th victory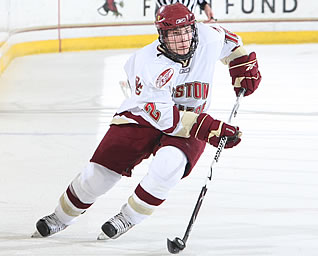 Ben Smith had two goals and an assist for the Eagles
DETROIT, Mich. - Senior Ben Smith and junior Joe Whitney each tallied a game-high three points and junior goaltender John Muse made 17 saves to lead Boston College to a berth in the 2010 NCAA Championship game - its fourth national title game in the last five seasons - with a 7-1 victory over Miami before a record crowd of 34,954 fans at Ford Field.
The victory also marked win No. 100 for BC's four seniors - Smith, Matt Price, Matt Lombardi and Carl Sneep.
Smith recorded two goals and one assist, while Whitney notched one goal and two assists to pace an Eagles' offense that featured six multiple-point players.
Sophomore Jimmy Hayes recorded one goal and one assist, while junior Brian Gibbons and freshmen Pat Mullane and Brian Dumoulin all tallied two assists for BC, which will play for the national title for the 10th time in school history and for the seventh time under head coach Jerry York.
Boston College will face Wisconsin, which defeated RIT 8-1 in Thursday's first national semifinal in the NCAA championship game on Saturday, April 10.
The Eagles scored goals on two of their first three power-play chances.
Smith opened the scoring late in the opening stanza, notching a man-advantage tally at 18:32.
Hayes and Whitney each scored one goal in the first 3:08 of the second period to give BC a 3-0 lead.
After Miami got on the scoreboard at 5:19 of the third period, BC answered with two goals in a 34-second span - at 10:10 and 10:44 - to claim a 5-1 advantage. Sophomore Cam Atkinson netted the first of these two goals, before freshman Patch Alber tallied his first collegiate goal seconds later.
Sophomore Paul Carey extended the margin to 6-1 just 61 seconds later - at 11:45, and Smith closed the scoring at 16:21.
Muse earned his 18th win of the season in the BC net. Two Miami goalies - Connor Knapp (six saves) and Cody Reichard - combined for 23 stops.