BOSTON COLLEGE UPENDS MERRIMACK, 4-3
Paul Carey and Jimmy Hayes each post goal and assist for Eagles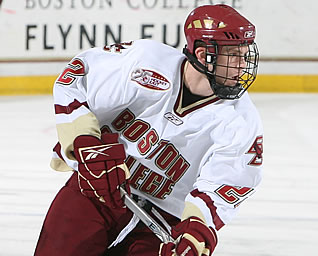 Paul Carey had a goal and an assist for the Eagles
CHESTNUT HILL, Mass. - Sophomores Paul Carey and Jimmy Hayes each tallied one goal and one assist and senior Ben Smith scored the decisive goal as No. 12 Boston College skated to a 4-3 Hockey East victory over Merrimack before 3,842 fans in Conte Forum in the Eagles' home opener.
Six goals - three on each side - were scored in the first period of play, including a dandy off the backhand of senior defenseman Carl Sneep with 53.5 seconds left in the period. Smith notched the lone tally of periods two and three to give the host Eagles (2-1-0, 1-1-0) the victory.
Freshman goaltender Parker Milner made 15 saves to earn the win in his collegiate debut.
Hayes and Carey opened the scoring early with each tallying their first goals of the season just 39 seconds apart. Hayes got BC on the scoreboard at 2:57 and Carey doubled the team's lead at 3:36.
The visiting Warriors (4-3-0, 1-1-0) responded - and responded quickly. Jeff Velleca tallied Merrimack's first of three consecutive scores just 22 seconds later - at 3:58. Kyle Bigos tied the score with a power-play goal at 17:08 and Brandon Brodhag gave the visitors a 3-2 lead at 18:10.
Sneep tied the game at 3-3 with less than one minute left in the first period, taking a feed from center Cam Atkinson and beating goalkeeper Joe Cannata for his first goal of the season.
Smith netted the gamewinner just less than halfway through the middle period (at 9:18), one-timing center Brian Gibbons' pass for his second goal of the season.
BC outshot Merrimack, 36-18, including a 16-6 edge in the game's first 20 minutes.
Cannata made 32 saves in the losing effort. He falls to 2-2-0 on the season.
Boston College and Merrimack will play the second game of the weekend series on Sunday, Nov. 1 in North Andover, Mass., at 4 p.m.
Game Notes: Freshman center Pat Mullane notched an assist on Hayes' goal for his first collegiate point ... senior alternate captain Matt Lombardi tallied a game-high five shots ... BC finished 0-for-7 in power-play situations ... the game was played in 1 hour, 53 minutes ... Milner's appearance in net snapped a string of 83-straight starts by junior John Muse ... Boston College improves to 17-0-4 in the last 21 meetings against Merrimack and is 20-0-2 against the Warriors inside Conte Forum since Oct. 31, 1997.