MERRIMACK NOTCHES 5-3 WIN OVER BOSTON COLLEGE
Four players register goal and assist for Warriors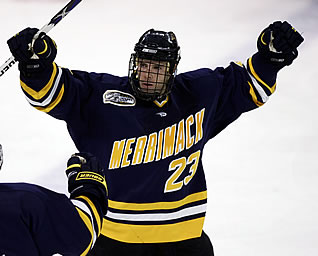 Chris Barton had a goal and an assist for the Warriors
NO. ANDOVER, Mass. - Brandon Brodhag, Chris Barton, Stephane Da Costa and Jeff Velleca each contributed a goal and an assist as Merrimack College picked up a 5-3 win against Boston College on Sunday afternoon at Lawler Arena.
With the win, Merrimack improves to 5-3 overall, 2-1 in Hockey East, while the Eagles drop to 2-2 overall, 1-2 in Hockey East. Merrimack will be idle next weekend before taking on Boston University in a home-and-home series beginning Friday, November 13 at Lawler Arena. Boston College will visit New Hampshire on Friday for a 7 p.m. faceoff.
The win is the Warriors' first in 20 games (0-16-4) against the Eagles, dating back to February 15, 2003.
The Eagles jumped on the board first as Ben Smith notched his third of the year on the power play at 4:39 of the first. But just as they did Friday night, the Warriors responded immediately, as John Jamieson put home a rebound off an Elliott Sheen (Lethbridge, AB) shot for his second of the season 45 seconds later.
Merrimack pushed its lead to two goals with tallies 1:31 apart early in the second with goals from the Hockey East freshman scoring leader Da Costa and the Hockey East goals leader Barton.
The line of Da Costa, Brodhag and Velleca cycled the puck beautifully around Eagle goaltender John Muse, with Da Costa finishing the play off with his sixth of the year on a pretty feed across the crease from Brodhag at 4:08 of the second.
Barton picked up his seventh of the season, taking feeds from J.C. Robitaille and Pat Bowen and wristed it past Muse to give the hosts the 3-1 advantage 91 seconds later.
The Warriors killed off two straight minor penalties midway through the second and cashed in on a power play chance of their own after Joe Whitney was given a major and game misconduct for checking from behind. Again, it was Brodhag, who tallied his second goal and fourth point of the weekend, as he redirected a Simon Demers blast past Muse at 17:54 of the second.
Velleca made it a three-goal advantage 22 seconds into the third with the teams skating four aside, as the sophomore took a pretty feed from Da Costa and buried it past Muse for his second in as many games.
The Eagles crept back in the game as Brian Gibbons and Jimmy Hayes added third-period strikes, but Andrew Braithwaite withstood a late third-period onslaught as the senior netminder stopped 13 shots in the final frame for his third straight victory in goal.
Braithwaite recorded 29 saves in all, while Muse stopped 23 in the loss. Merrimack's power play scored for the sixth straight game, netting one goal in four tallies and killed of six of eight short-handed situations.