BOSTON COLLEGE ROLLS PAST HARVARD AT BEANPOT, 6-0
Senior defenseman Carl Sneep posts goal and two assists for Eagles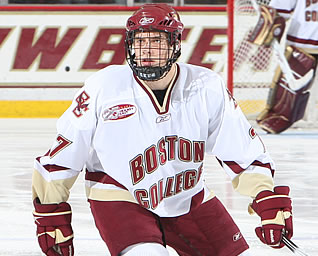 Carl Sneep had a goal and two assists for the Eagles
BOSTON - Junior goaltender John Muse made 33 saves and Boston College got goals from three (of four) seniors and six players in total as the 14th-ranked Eagles defeated Harvard 6-0 before 17,565 fans in the first round of the 58th Beanpot at TD Garden.
BC scored once in the first period, twice in the second and three times in final frame en route to the victory, shutting out an opponent in Beanpot play for the first time since 2002 (also against Harvard).
Senior Ben Smith netted a first-period power-play goal at 5:54.
Senior captain Matt Price doubled the BC lead just 18 seconds into the middle period and freshman Pat Mullane scored at 8:43 to give BC a 3-0 lead heading into the third period.
Freshman Chris Kreider tipped classmate Brian Dumoulin's shot from the right point for the Eagles' fourth goal at 6:01, before Brian Gibbons netted a man-advantage tally at 13:05 and senior defenseman Carl Sneep concluded the scoring by blasting a slap shot past Harvard goalie Kyle Richter at 14:02.
"I thought our senior class was outstanding," BC head coach Jerry York said. "It was evident to me watching these four seniors (Matt Price, Matt Lombardi, Ben Smith and Carl Sneep) that they were really instrumental."
Sneep led all multiple-point scorers with one goal and two assists, while Dumoulin (two assists), Steven Whitney (two assists), Gibbons (one goal, one assist) and Smith (one goal, one assist) all tallied two-point nights.
Muse made 33 saves in 57:26, including 17 in the second period, to earn his 52nd career victory. He improves to 9-6-2 this season.
"I thought John Muse was very good in goal. He made some good saves down around the net area in loose-puck situations," said York, who lifted Muse for sophomore Chris Venti for the final 2:34.
Richter finished with 33 saves in 54:02, while replacement John Riley made four saves in the closing 5:58.
BC attempted 81 total shots, including 43 shots on goal. It finished 3-for-11 in power-play situations. Harvard was penalized 17 times, including 10 times with three game misconducts in the third period.
The Eagles, who have won nine straight over Harvard in Beanpot play, advance to the tournament's championship game for the fourth time in the last five seasons, the 10th under York and the 30th overall. BC will play Boston University, which defeated Northeastern 2-1 in first-round play, on Monday, Feb. 8, 2010 at 8 p.m.
Game Notes: Brian Gibbons, the 2008 Beanpot MVP, extended his scoring streak to nine games (5-10-15) with one goal and one assist against the Crimson. He now has four goals and seven points in five career Beanpot games ... Sneep matched a career-high previously established against Northeastern on Nov. 7, 2009 ... BC improved to 66-49 in Beanpot play and 19-12 under York ... BC has seven Beanpot shutouts - five against Northeastern and two against Harvard ... Steven Whitney tallied two points for the second straight game ... Dumoulin, BC's plus-minus leader at +14, tallied a game-high +3 rating ... Sneep and Gibbons were each named semifinalists for the Gridiron Club of Greater Boston's Walter Brown Award announced on Monday.