Saturday, January 2, 2010
BOSTON COLLEGE DEFEATED BY DENVER, 4-3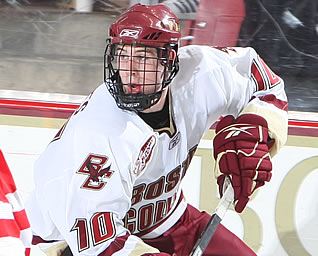 Jimmy Hayes had two assists for the Eagles
DENVER, Colo. - Joe Whitney, Tommy Cross and Brian Gibbons each scored once for the fifth-ranked Eagles and goaltender John Muse made 35 saves, but second-ranked Denver scored four times in the final period to win the Wells Fargo Denver Cup with a 4-3 win over BC before 5,983 fans in Magness Arena.
BC led 2-0 after two periods and 3-1 at the 5:36 mark in the third period on a Gibbons' shorthanded goal. Denver then scored three straight, including Joe Colborne's game-winning goal late in the final frame to claim the victory.
Drew Shore brought Denver within one goal - at 3-2 - at 6:45, Tournament MVP Rhett Rakhshani tied the score at three goals apiece on his second score of the game at 14:44 and Colborne netted the decisive goal at 16:45.
Denver goaltender Marc Cheverie made 28 saves to earn the win. He improves to 11-2-1.
BC's Muse made four saves in the first period, 15 in the middle stanza and 16 in the final frame in the losing effort. He falls to 6-4-2.
Denver outshot BC, 39-31, yet the Eagles tallied an 11-4 edge in the category after the first period of play and led 1-0 on Whitney's fifth goal of the season at 9:17.
Cross doubled the BC lead with his fourth goal of the season at 16:03 of the middle frame.
Denver's Rakhshani scored the Pioneers' first goal 30 seconds into the third period to halve the Eagles' 2-0 lead before Gibbons gave BC its two-goal lead back while on the penalty kill.
Sophomore forward Jimmy Hayes tallied two assists for the Eagles, who next play Boston University at Fenway Park on Friday, Jan. 8 at 7:30 p.m. on NESN
Team Records: Boston College 10-5-2; Denver 13-5-2
Game Notes: Sophomore defenseman Tommy Cross was named to the Wells Fargo Denver Cup All-Tournament Team ... Saturday's game marked BC's 12th overall and sixth straight road game; the Eagles are 6-4-2 away from Kelley Rink ... Gibbons' shorthanded goal marked BC's first shorthanded goal of the season ... freshman defenseman Patrick Wey injured his right wrist in the second period and did not return ... BC will play its next 15 games in the state of Massachusetts before traveling to Durham to face New Hampshire on March 5.