Saturday, December 5, 2009
EAGLES SCORE THREE GOALS IN THIRD PERIOD TO TOP TERRIERS, 4-1
Junior Joe Whitney registers goal and assist for Boston College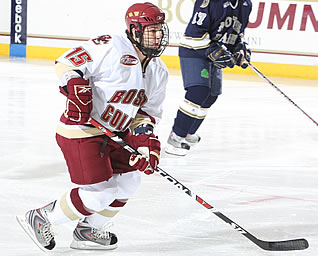 Joe Whitney had a goal and an assist for BC
CHESTNUT HILL, Mass. - The Boston University men's ice hockey team took a 1-0 lead early in the second period, but crosstown rival Boston College answered with four unanswered tallies to earn a 4-1 victory on Saturday night at Agganis Arena. The loss puts the Terriers at 4-8-3 overall and 2-7-2 in Hockey East action while the No. 14/15 Eagles improve to 8-3-2 on the season and 6-3-2 in league play.
Junior Nick Bonino opened the scoring, converting on a wrap-around with assists from freshman Alex Chiasson and sophomore Chris Connolly at the 2:10 mark of the second to give the hosts a 1-0 lead.
The Terrier defense and sophomore goaltender Kieran Millan withstood four BC power plays in the first two periods and held the Eagles scoreless until the visitors finally broke through with just over two minutes to play in the middle stanza. Senior Carl Sneep had his shot carom off the right pipe and in following helpers from junior Joe Whitney and sophomore Jimmy Hayes to knot the score at 1-1.
The Eagles came out gunning in the third period and their efforts produced a go-ahead goal just 38 seconds into the frame. Sophomore Edwin Shea netted his first career goal when his effort from the right side went off a BU defender's stick before sneaking past Millan.
Whitney extended the lead when he netted his fourth goal of the season at the 14:22 mark of the third and junior Brian Gibbons iced the 4-1 final with his third tally of the season with 7:23 to play.
Both teams were unable to take advantage of man-up advantages as BU was 0-for-5 on the night and BC was scoreless on six power-play chances. Millan stopped 23 shots for the Terriers in the loss while BC netminder John Muse stopped 30 shots to record his fifth victory of the year.
The result marked the end of a lengthy streak, as the Terriers had gone 34-0-5 in the last 39 games in which Bonino had scored at least one point.
The Terriers will step out of conference play in their next contest, welcoming Rensselaer to Agganis on Friday (Dec. 11) for a 7 p.m. game. The match-up against RPI marks BU's final game of 2009. BC will visit Harvard on Wednesday (Dec. 9) for a 7 p.m. contest in a preview of one of this year's Beanpot semifinals.