BOSTON COLLEGE DEFEATS ALASKA, 3-1, AT NORTHEAST REGIONAL
Freshman Pat Mullane pots game-winner for Eagles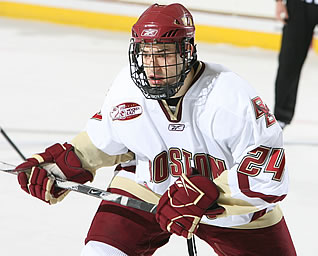 Matt Lombardi scored a shorthanded goal for BC
WORCESTER, MA -
WORCESTER, Mass. - Freshman Pat Mullane scored the game-winning goal at 3:46 of the third period and senior Matt Price sealed the victory with an automatic goal as Boston College defeated Alaska 3-1 in the first round of the 2010 NCAA Northeast Regional at the DCU Center.
Freshmen Patch Alber and Steven Whitney assisted on Mullane's decisive score.
Price was credited with the score after being hooked as he headed toward an empty Alaska net with 11.3 seconds to play.
BC advances to the Northeast Regional final, which will be played in the DCU Center on Sunday, March 28 at 5:30 p.m. The Eagles will play the winner of the North Dakota-Yale game, Saturday's second Northeast Regional semifinal.
Senior Matt Lombardi opened the scoring with a shorthanded tally at 8:54 of the opening frame. Lombardi's goal follows his three-goal, one-assist effort against Maine in the Hockey East championship game.
Alaska tied the game with a power-play goal at 17:32 of the middle stanza on Andy Taranto's 18th score of the season.
BC junior goalie John Muse made 28 saves to earn his 59th career win and 14th in postseason play.
The Eagles were outshot 11-8 in the opening period, then tallied advantages of 13-11 and 11-7 in the final two periods, respectively. Sophomore forward Jimmy Hayes registered a team-high six shots in the victory.
Alaska goalie Scott Greenham recorded 29 saves in the loss.
Team Records: Alaska - 18-12-9; Boston College - 26-10-3
Game Notes: Lombardi's shorthanded goal marked the first shorthanded goal of his 142-game career . BC head coach Jerry York improved to 25-8 in NCAA Tournament play at Boston College, including a 9-0 record in the tournament's first round.