UMASS LOWELL POSTS 3-0 EXHIBITION WIN OVER ACADIA
Three different players score goals and three goaltenders combine for shutout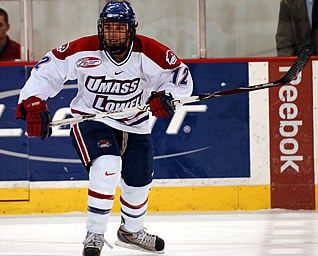 Kory Falite picked up a goal for the River Hawks
LOWELL, Mass. - The River Hawks took an early lead in the first and never looked back, shutting out the Acadia Axemen 3-0 in an exhibition game at the Tsongas Arena on Sunday afternoon.
Freshman Riley Wetmore (Swanton, VT) opened scoring 9:30 into the first period, giving the River Hawks a lead they would not relinquish. Defenseman Tim Corcoran (Milton, MA) fed the puck down to Barry Goers (Ivyland, PA) in the left hand corner. Goers fired the puck to Wetmore who was stationed on the goaltender's weak side for the quick strike.
Sophomore left wing Michael Scheu (Buffalo, NY) tallied a power play goal 2:30 into the second to boost UMass Lowell to a 2-0 lead. Scheu was the beneficiary of a Nick Schaus (Buffalo, N.Y.) one-timer near the blue line, allowing the sophomore to surprise the goalie with a redirection into the net.
The final score came from the stick of senior Kory Falite (Billerica, MA), 13:17 into the second. Following a battle along boards, Maury Edwards (Rocky Rapids, ALB) slide the puck to freshman Joe Caveney (Fitchburg, MA), who fired it to Falite dead in front of the net. Falite shot it high short-side for the final goal of the night.
The River Hawks outshot the Axemen 35-16 on the afternoon, while all three UMass Lowell goaltenders saw ice-time. Senior Carter Hutton (Thunder Bay, ON) earned the victory for his 26 minutes of shutout work and nine saves. He was relieved by classmate Nevin Hamilton (Ashland, MA), who made five saves in just under 24 minutes of play. Freshman Michael Heffron (Malden, MA) played just over nine minutes and stopped a pair of shots.
UMass Lowell opens the season in Omaha, Neb. at the IceBreaker Tournament on Friday, Oct. 9. The River Hawks will face St. Lawrence at 5:05 p.m., followed by a match-up with either Army or Nebraska-Omaha on Saturday. The UMass Lowell home opener will take place on Friday, Oct. 23 at 7:00 p.m., as the River Hawks host Colgate in the Tsongas Arena.