CATAMOUNTS EARN 4-1 WIN AGAINST YALE AT NCAA EAST REGIONAL
Freshman Rob Madore makes 25 saves for Vermont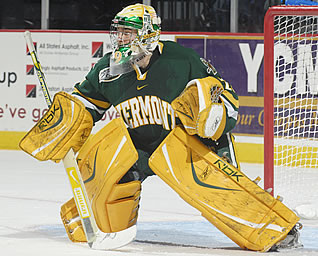 Rob Madore made 25 saves for the Catamounts
BRIDGEPORT, Conn. - Third-seeded Vermont had four different players score goals and the Catamounts went seven-for-seven on the penalty kill on the way to a convincing 4-1 victory over second-seeded Yale in the opening round of the NCAA East Regional on Friday night in front of a sellout crowd of 8,478 at Bridgeport Arena at Harbor Yard. Vermont (21-11-5, 15-8-4 HEA) advances to meet fourth-seeded Air Force (28-10-2, 20-6-2 AHA) in the East Regional Final on Saturday at 6:30 p.m. with a spot in the 2009 Frozen Four on the line. The Falcons upset top-seeded Michigan 2-0 in the first game of the East Regional.
OTHER LINKS: Kevin Sneddon Video - Vermont Student-Athletes (Lenes, Madore, Stalberg Video
It's just the second-ever NCAA Tournament win for Vermont and the first since 1996 when UVM advanced to the Frozen Four at Riverfront Coliseum in Cincinnati, Ohio. The Catamounts are 2-4 all-time in NCAA Tournament games.
Seniors Peter Lenes (Shelburne, Vt.) and Corey Carlson (Two Harbors, Minn.) and juniors Viktor Stalberg (Gothenburg, Sweden) and Colin Vock (Plymouth, Mich.) each scored goals for the Catamounts.
Yale forward Chris Cahill scored with 1:15 remaining in regulation to spoil the shutout bid for freshman goaltender Rob Madore (Venetia, Pa.), who finished with 25 saves. The Bulldogs finish their season with a program-best record of 24-8-2 (15-5-2 ECAC).
"It's obviously a big win for our program...we did a great job of taking care of the puck tonight, not forcing things, limiting our turnovers and capitalizing on our chances," Vermont head coach Kevin Sneddon said. "I want to make sure we pay tribute to Yale, they had a great season and were a tough team and should certainly be proud of their season."
"I want to congratulate the University of Vermont on playing a fantastic hockey game," Yale head coach Keith Allain said. "Things did not go according to script for us tonight. We were not able to get on track."
In a whistle-happy opening 10 minutes of play in which five penalties were called, both teams exchanged abbreviated five-on-three power plays but neither was able to capitalize.
Using penalty killing as a launching pad, Vermont struck first at 15:19 of the first period to grab a 1-0 lead. Sophomore defenseman Kyle Medvec (Burnsville, Minn.) sparked the play by tipping the puck out of Vermont's zone to Lenes near center ice. Skating along the left sideboards, Lenes gained the Yale blue line and then executed a slight hesitation move to perfection before unleashing a low wrist shot under the left arm of Bulldogs goaltender Alec Richards (22 saves).
"I thought our guys did a good job of just settling down and not getting carried away with being in the tournament," Lenes said. "We were obviously happy about being here but we didn't really think about the fact that we were in the tournament and we just settled down and played hockey."
Vermont extended the lead to 2-0 just 1:50 into the second period. Leading an odd-man rush into the Yale zone, Hobey Baker finalist Viktor Stalberg shook off a Bulldog defender and snapped off a wrist shot between the hash marks for his team leading 24th goal of the season.
Looking to cut into the deficit, Yale received a golden opportunity at 15:17 of the second when Stalberg was called for elbowing. With Vock already in the box for slashing, the Bulldogs earned their second five-on-three man advantage of the game, albeit an abbreviated 58 seconds. However, just like their previous two man advantage, Yale was unable to cash in thanks to a stellar defensive effort by the Catamounts.
After the pivotal kill, Vermont responded less than two minutes later by extending the lead to 3-0 with just 59 seconds remaining in the second. Knocking down an attempted Yale clear at the right point, sophomore defenseman Dan Lawson (Oak Forest, Ill.) snapped off a wrist shot that Richards stopped but the rebound went directly to sophomore Wahsontiio Stacey (Kahnawake, Quebec). Anticipating the play, Stacey tipped the puck to Vock near the right dot where he sent a wrist shot between the pads of Richards.
Vermont stretched the lead to 4-0 late in the third period. Leading a two-on-one break, Carlson gained the Bulldog blue line then faked a shot near the top of the right circle. Forcing Richards to regroup, Carlson pulled the puck back and then lifted a wrist shot past the Bulldog goaltender.
"I told our guys in the locker room that was probably our best game of the year," said Sneddon who was making his first NCAA appearance as a head coach. "I think we kind of closed the gaps on both sides of the puck...that was as complete an effort as (we've had) all season."
"All 60 minutes the guys played phenomenal and made my job easy," Rob Madore said. "Coming into this game and this week, we realized (Yale) has an offense that is very similar to New Hampshire...you can't say enough about our defensive effort shutting them down and limiting their chances."
Vermont will face Air Force on Saturday at 6:30 p.m. The game will be televised on ESPNU. The Catamounts are 5-0 all-time against the Falcons. The last meeting between the two teams was on Jan. 18, 1992 in a game UVM won 4-2 at Gutterson Fieldhouse.
NOTES: Tonight's game was televised on ESPNU ... Viktor Stalberg has at least one point in 24 of the last 27 games ... Vermont went 0-for-5 on the power play while Yale was 0-for-7 ... The Catamounts are 51-14-3 in their last 78 games when scoring first ... Vermont and Yale both had 26 shots ... Michigan out shot Air Force 43-13 in the first East Regional game ... Goalie Andrew Volkening stopped 43 shots for the Falcons ... Check back to www.UVMathletics.com for postgame comments from Kevin Sneddon, Peter Lenes, Rob Madore and Viktor Stalberg ... Josh Appelbaum contributed to this report.