COLLINS LIFTS UNH PAST VERMONT IN OVERTIME, 6-5
Senior Greg Collins scores at 3:44 of overtime to clinch third seed for Wildcats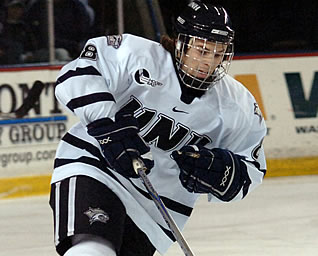 Greg Collins had three points for the Wildcats
BURLINGTON, Vt. - Senior Greg Collins scored the game-winning goal on a rebound with 1:16 left in overtime to give No. 9 New Hampshire a come-from-behind 6-5 victory against No. 7 Vermont in Hockey East action in front of a sellout crowd at Gutterson Fieldhouse on Saturday night. The Wildcats (19-10-5, 15-8-4 HEA) clinch third place in the Hockey East standings with the win and will host sixth-seeded Boston College in the Hockey East Quarterfinals next week. The Catamounts (20-9-5, 15-8-4 HEA) finish fourth in the league and will host fifth-seeded UMass-Lowell in a best-of-three series beginning next Friday.
Collins had a total of three points while UNH junior Peter LeBlanc scored twice. James van Riemsdyk, Alan Thompson and Kevin Kapstad also scored for the Wildcats.
"Obviously you can't give UNH opportunities like that, golden opportunities, because they are going to capitalize, they're a great team," Vermont head coach Kevin Sneddon said. "We gift-wrapped at least four of the six goals tonight. Complete, complete turnovers, our defensemen were abysmal back there. We left guys wide open, we gave them breakaways and we gave them turnover opportunities. I told the team obviously we're here to celebrate the seniors tonight because of their great careers, but the lack of defensive urgency this weekend really wasn't very promising from my book."
Twelve different players recorded points for Vermont for the second straight night led by Jonathan Higgins (Stratham, N.H.) who scored a pair of goals. Sophomore Dan Lawson (Oak Forest, Ill.) added a power-play tally and an assist. Juniors Viktor Stalberg (Gothenburg, Sweden) and Colin Vock (Plymouth, Mich.) also scored goals for the Catamounts.
Vermont squandered three one-goal leads before Collins lifted UNH to the victory at 3:44 of overtime. The Catamounts carried play for most of regulation and held a 36-23 shot advantage heading to overtime.
However, the Wildcats out shot UVM 5-0 in the extra frame and Collins went streaking downing the seam to knock in a rebound for the winner as UNH improved to 11-3 in one-goal games this season.
LeBlanc scored his second goal of the game for the Wildcats with 3:20 left in the third period to tie the game 5-5 and force overtime. The Catamounts turned the puck over in their own zone and Collins setup LeBlanc right in front for the goal.
The Wildcats led 2-1 after 20 minutes despite being out shot 15-9 in the opening frame. LeBlanc and van Riemsdyk both scored for UNH while Stalberg notched his 22nd goal of the year on a backdoor feed from Brian Roloff (West Seneca, N.Y.).
The Catamounts tied the game 2-2 at 6:20 of the second on the first goal of the season for Higgins. His wrist shot from the left circle beat UNH goalie Brian Foster (31 saves) glove side. Lawson and sophomore Jack Downing (New Canaan, Conn.) each assisted.
"You know, it'd be nice to keep that offensive production up, but that was a pretty uncharacteristic hockey game for UVM I would say," Higgins said. "But if we can keep that scoring up and tighten up the d-zone, you know that'd be something we'd like to take into the playoffs."
Vermont took its first lead at 3-2 on a power-play goal by Lawson at 8:44 of the second on a one timer from the right point during a 5-on-3. Sophomores Kyle Medvec (Burnsville, Minn.) and Justin Milo (Edina, Minn.) assisted.
Thompson made it 4-4 with 4:01 left in the second when his wrister from the left circle beat Rob Madore (22 saves). Vock gave UVM the lead back just 74 seconds into the final period when he squeezed the puck through Foster's pads on a breakaway.
UNH's Kapstad and UVM's Higgins exchanged goals in the third before LeBlanc forced overtime with just over four minutes left.
"It's pretty disappointing not to be able to get the W to close out the year and on senior night," Higgins added. "It would have been a big win and put us in third place, but we're going to celebrate the seniors and put it behind us."
Vermont finished 1-for-4 on the power play while UNH was 0-for-2. The Wildcats went 2-1 against the Catamounts in the season series that featured a total of 26 goals.
Vermont will host UMass-Lowell in a best-of-three Hockey East Quarterfinal series beginning next Friday at Gutterson Fieldhouse at 7:05 p.m. Saturday's game will also be at 7:05 p.m. and if necessary Sunday's game will start at 7:05 p.m. as well. Check back to UVMathletics.com for ticket information.
"We're excited to start the second season and again we've got some things to work on, in terms of the way we play," Sneddon added. "Then we'll address Lowell's tendencies as the week goes on and get ready for Friday."
NOTES: Vermont honored its five seniors immediately following the game against New Hampshire. Corey Carlson (Two Harbors, Minn.), Kyle Kuk (Monroe, Mich.), Peter Lenes (Shelburne, Vt.), Dean Strong (Mississauga, Ont.) and senior manager John Gobeil (Derby, Vt.) were all recognized. The group has been part of one of the best four-year stretches in school history, winning a total of 73 games to this point - UVM is 2-1-5 in overtime this season - UNH is 15-2-4 when scoring first - The loss ended a 49-game unbeaten streak for UVM when scoring at least four goals. The last loss for the Catamounts when scoring four times had come on Jan. 24, 2004 in a 9-4 defeat at Colgate - Vermont is 10-4-4 at home this season and 7-6-2 against ranked opponents.