ROLOFF LEADS VERMONT PAST NEW HAMPSHIRE, 6-4
Brian Roloff scores hat trick for Catamounts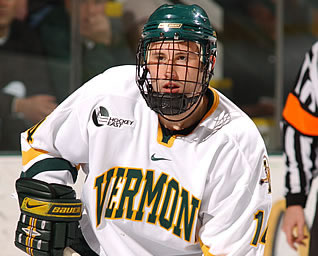 Brian Roloff had a hat trick for Vermont
BURLINGTON, Vt. - Junior Brian Roloff (West Seneca, N.Y.) notched a hat trick and junior Viktor Stalberg (Gothenburg, Sweden) recorded a short-handed goal and three points as No. 7 Vermont defeated No. 9 New Hampshire 6-4 in Hockey East action in front of a sellout crowd at Gutterson Fieldhouse on Friday night. Twelve different players recorded points for the Catamounts, who improved to 20-8-5 (15-7-4 HEA) with the win as they gained sole possession of third place in Hockey East. The Wildcats fell to 18-10-5 (14-8-4 HEA) with the loss and had their five-game winning streak come to an end.
"With all due respect to the very talented team next door, I thought Viktor Stalberg and Brian Roloff were the best two players on the ice," Vermont head coach Kevin Sneddon. "Probably the best performance I've seen all year out of those guys."
Vermont sophomore Dan Lawson (Oak Forest, Ill.) added a power-play goal and junior Brayden Irwin (Toronto, Ont.) notched his sixth goal of the season.
Sophomores James van Riemsdyk and Danny Dries as well as freshmen Blake Kessel and Damon Kipp tallied goals for the Wildcats.
Roloff scored his first of three goals during a 4-on-4 just 90 seconds into the game on a centering pass from Stalberg. Freshman Drew MacKenzie (New Canaan, Conn.) also assisted on the play.
After Kipp tied the game for UNH 64 seconds later with the first goal of his career, Roloff put Vermont in front 2-1 at 8:31 of the first. Roloff collected a loose puck in the low slot and beat UNH goalie Brian Foster (29 saves). Sophomore Justin Milo (Edina, Minn.) and Stalberg each assisted.
With Vermont leading 4-3 in the second, Roloff completed the hat trick with just 90 seconds remaining in the period during another 4-on-4. Roloff skated end-to-end and went straight down the seam to beat Foster with a wrister to give the Catamounts a two-goal cushion.
"When I came to the rink, it seemed like another normal day, another game," Roloff said. "But it turned out to be something special ... I can't remember the last time I had a hat trick."
Stalberg put the Catamounts ahead 6-3 at 10:26 of the third period on a sensational short-handed goal. Senior captain Dean Strong (Mississauga, Ont.) found Stalberg behind the UNH defense and his backhander beat Foster top shelf. It was Stalberg's team leading 21st goal of the season to go along with a team high 39 points.
Vermont out shot New Hampshire 35-32. The Wildcats went 0-for-6 on the power but scored two goals just as time had expired on man advantages.
Van Riemsdyk scored on a back door pass from Jerry Pallastrone at 13:07 of the second, just as a power play had finished, to pull UNH within a goal at 3-2.
Kessel scored at 11:56 of the third period on a wrist shot from the slot, again just as a power play had expired. Kessel's sixth goal of the year cut the UNH deficit to 6-4, but the Wildcats would get no closer.
Lawson's goal for the Catamounts came on a one timer from the right point at 16:32 of the first period on the power play. Sophomore Kyle Medvec (Burnsville, Minn.) and senior Peter Lenes (Shelburne, Vt.) setup the goal.
"We only had maybe one to two d-men on the power-play units for most of the year, and it was working," Lawson said. "But when things stopped working coach decided to simplify things and he's just preaching pucks to the net. Our d-men and our entire core are pretty good at getting pucks in there. We've been pretty solid at getting it through shot blocks and giving our forwards opportunities to whack at the puck."
Irwin scored his sixth goal of the season directly off a face off won by Colin Vock (Plymouth, Mich.) at 15:10 of the second.
Freshman Rob Madore (Venetia, Pa.) finished with 28 saves in just the second win for UVM against UNH since joining Hockey East. The Catamounts have just 16 victories in 84 games against the Wildcats in the all-time series.
Vermont and New Hampshire close out the regular season at Gutterson Fieldhouse on Saturday at 7:05 p.m. A win or a tie for the Catamounts clinches third place in the Hockey East standings. The game is sold out.
NOTES: Dean Strong played in his 149th consecutive game tonight ... He has never missed a game in his career and moved past Ryan Gunderson '07 for the most games played in program history ... Vermont's six goals matched its' season high. The Catamounts also scored six times in a 6-4 win over Colgate in the opening round of the Catamount Cup on Jan. 2 ... Roloff's hat trick was the first for a Catamount since Peter Lenes had one on October 21, 2005 in his first collegiate game at Gutterson Fieldhouse ... Tonight was the 90th sellout in the last 98 games at Gutterson ... Viktor Stalberg had a game high plus-3 rating and six shots ... Brian Roloff went 16-for-22 on face offs ... Check back to UVMathletics.com for postgame comments from Kevin Sneddon, Brian Roloff and Dan Lawson as well as game highlights.