Saturday, November 8, 2008
VERMONT NOTCHES 3-1 WIN AGAINST UMASS LOWELL
Brayden Irwin and Victor Stalberg each post goal and assist for Catamounts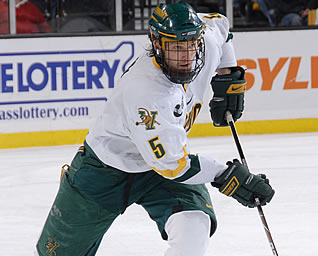 Brayden Irwin had a goal and an assist for Vermont
LOWELL, Mass. (Nov. 8, 2008) - Ben Holmstrom (Colorado Springs, Colo.) scored for the River Hawks, but No. 16 Vermont defeated UMass Lowell, 3-1, in Hockey East action Saturday night at the Tsongas Arena.
The Catamounts are unbeaten in their last three games and improve to 4-2-2 overall and 1-2-1 in Hockey East. The River Hawks have dropped two straight and fall to 3-4-0 overall and 1-2-0 in league play with the loss.
Brayden Irwin (Toronto, Ont.) and Victor Stalberg (Gothenburg, Sweden) each had a goal and an assist to lead the Vermont attack.
Holmstrom scored the only goal of the game for the River Hawks. Jeremy Dehner (Madison, Wis.) earned the only assist on the goal.
Stalberg got the Catamounts on the board 4:16 into the first period on their first power play of the contest. Justin Milo (Edina, Minn.) and Irwin had the assists on the goal. Stalberg's goal was the first goal UML has allowed in the first period this season.
Wahsontiio Stacey (Kahnawke, Que.) scored the game-winning goal less than two minutes into the second period (1:57) with assists from Peter Lenes (Shelburne, Vt.) and Drew MacKenzie (New Canaan, Conn.).
Holmstrom got the River Hawks on the board on UML's fourth power play of the contest, his second goal of the year, at 9:32 of the second period.
Irwin put the game away just 37 seconds into the third period with the Catamounts second power play goal of the night. Lenes and Stalberg picked up the assists.
Rob Madore (Venetia, Pa.) made 25 saves, including 15 in the second period. Madore improved to 2-0-1 on the year.
Nevin Hamilton (Ashland, Mass.) made his first start in goal for UML this season and took the loss. Hamilton stopped 16 shots, but allowed three goals.
The River Hawks out-shot the Catamounts 16-6 in the second period and 26-19 for the game. UML was 1-for-8 with 14 shots on the power play. UVM was 2-for-8 with six shots on the man-advantage.
"We didn't take full responsibility for our opportunities tonight and Vermont certainly did," said UMass Lowell head coach Blaise MacDonald. "They got two power play goals with fortunate rebounds and bounces right to their guys who were able to put them into open nets. At the end of the day we didn't capitalize on our opportunities. Vermont is a team that when they play with a lead on the road they can clamp it down."
The River Hawks return to the ice Friday night when they host New Hampshire. Game time is set for 7:00 p.m. at the Tsongas Arena. The Catamounts are next in action Friday when they host Northeastern.