UMASS LOWELL ADVANCES TO HEA SEMIFINALS WITH 4-2 WIN AT VERMONT
Scott Campbell scores two goals and adds assist for River Hawks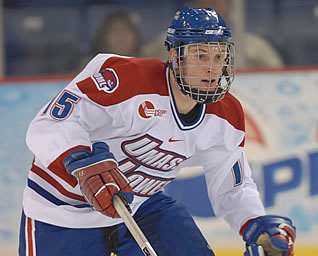 Scott Campbell had two goals and an assist for UML
BURLINGTON, Vt. - Sophomore Scott Campbell scored two third period goals, including an empty netter with 48 seconds left to lead UMass-Lowell to a 4-2 victory over No. 7 Vermont in Game 2 of the Hockey East Quarterfinals in front of a sellout crowd at Gutterson Fieldhouse on Saturday night. The River Hawks defeat the Catamounts 2-0 in the series and improved to 19-15-2 (14-11-2 HEA) on the season to advance to the Hockey East Semifinals at the TD Banknorth Garden in Boston next Friday. Vermont dropped to 20-11-5 (15-8-4 HEA) with the loss and will await a potential at-large bid to the upcoming 2009 NCAA Tournament, which begins on March 27.
Blaise MacDonald Audio (mp3) - Mike Potacco Audio (mp3)
The NCAA Men's Hockey Tournament Selection Show is set for Sunday, March 22 at 11:30 a.m. on ESPN2. Vermont was tied for eighth in the most up to date Pairwise Ratings following its game on Saturday. The Pairwise is used by the NCAA to select and seed teams for the 16-team NCAA Tournament.
"Lowell was exceptional all weekend long," Vermont head coach Kevin Sneddon said. "I can't help but feel that they wanted it more; that they out-willed us at times, and especially at key moments."
"I don't want to make any assumptions that we're in," Sneddon said of the NCAA Tournament. "I think we've got a great shot, and maybe somebody will tap me on the shoulder saying "coach, you'll be there," but nobody's said that to me yet because there's so much more hockey to be played."
UMass-Lowell will be headed to the Hockey East Semifinals for the first time since 2002. The River Hawks went 3-1-1 in five games against the Catamounts this season.
Vermont junior Viktor Stalberg (Gothenburg, Sweden) and sophomore Justin Milo (Edina, Minn.) both scored goals for the Catamounts in the loss. Freshman Rob Madore (Venetia, Pa.) made 18 saves.
Junior Chris Auger added a power-play goal for the River Hawks and senior Mike Potacco scored at even strength. Junior goalie Nevin Hamilton turned away 22 shots.
Stalberg gave Vermont a 1-0 lead 59 seconds into the game with a power-play goal. Sophomore Kyle Medvec (Burnsville, Minn.) assisted on the 23rd goal of the season for Stalberg.
Minutes later the Catamounts appeared to have taken a 2-0 advantage when the goal light when on after a shot by Josh Burrows from the low slot in transition. But after a conference the officials took the goal off the scoreboard.
Then after UVM's Drew MacKenzie hit the post on a wrist shot, Auger tied the game 1-1 for Lowell with a power-play goal from the slot at 8:12 of the first.
The River Hawks took their first lead of the game at 15:03 of the second period on Potacco's eighth goal of the season. Potacco lifted a rebound at the left post past Madore to make the score 2-1.
Lowell opened up a 3-1 advantage on Campbell's power-play goal at 10:29 of the third period. Milo responded 11 seconds later with a goal to cut the deficit to 3-2 but Campbell notched his 13th goal of the season with an empty netter to seal the victory with 48 seconds left.
"It's obviously frustrating right now," Viktor Stalberg said. "We worked all year to get the best possible position, then you don't get the job done, it feels pretty empty right now. It's a shame for our seniors, who worked hard here for four years and don't get to win their last game here."
"I'm disappointed for the guys because I don't think our true character really came through," Sneddon added. "As a coach that's frustrating because you want to get it out of your team, and you try to press different buttons, and you do different things, whatever we tried just didn't seem to work very well and that's frustrating as a coach. I know it's difficult for our seniors, this is our last home game and that's not the way you want to end your time here at Gutterson by dropping a home series."
NOTES: A reminder fans can bring their ticket stub from tonight's game into Lippa's Jewelers at 112 Church St. in Burlington for a free watch battery (redeemable 1 year from today). A special thanks to Lippa's Jewelers for sponsoring tonight's in between period promotion ... Vermont out shot Lowell 24-22 ... The Catamounts went 1-for-6 on the power play while the River Hawks were 2-for-4 ... Viktor Stalberg has at least one point in 23 of the last 26 games.