EDWARDS LIFTS RIVER HAWKS PAST CATAMOUNTS IN OVERTIME, 4-3
UML's Maury Edwards scores with Two Seconds left in first overtime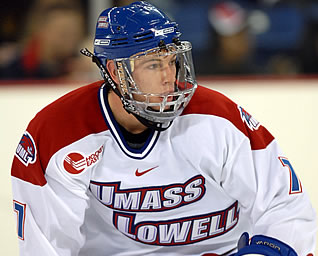 Maury Edwards got the game-winner for UMass Lowell
BURLINGTON, Vt. - Sophomore Maury Edwards scored the game-wining goal on a wrist shot from the left circle with 2 seconds remaining in overtime to lead fifth-seeded UMass-Lowell to a 4-3 victory over fourth-seeded Vermont in Game 1 of the Hockey East Quarterfinals on Friday night in front of a sellout crowd at Gutterson Fieldhouse. The River Hawks improved to 18-15-2 (14-11-2) with the win while the Catamounts dropped to 20-10-5 (15-8-4 HEA) with the loss.
Vermont led 3-1 with under seven minutes to play but UMass-Lowell erased a two-goal deficit in the final period to force overtime.
Freshman David Vallorani scored a 5-on-3 goal at 13:41 of the third to cut the deficit to 3-2. Vallorani's ninth goal of the season came after a five-minute hit-from-behind penalty on Brayden Irwin and a tripping call on Viktor Stalberg.
Then with an extra skater on the ice junior Nick Schaus tied the game for the River Hawks with 30 seconds to play in regulation. Schaus found space at the left circle and his wrist shot beat Rob Madore (24 saves) to tie the game 3-3.
"Obviously frustrating," Vermont head coach Kevin Sneddon said. "I felt like we had the game in hand at one point. I thought we took two very poor penalties that hurt our team. The five-minute hit-from-behind was the correct call. It's a bad penalty and then we take another one later on to give them life again."
"I just thought our killers did a great job but, you can't give a team like that a 5-on-3 in a playoff game. It's disappointing, we felt like we had the momentum and we kind of gave it back. Obviously their defenseman beat us."
Seniors Peter Lenes (Shelburne, Vt.) and Dean Strong (Mississauga, Ont.) as well as sophomore Dan Lawson (Oak Forest, Ill.) scored goals for the Catamounts.
"I mean obviously it's a tough loss, two seconds left," Lawson said. "But that's the beauty of a three-game series really, we've just got to get over it as fast as we can and get tomorrow in our minds and come out and give it all we've got."
Vermont and UMass-Lowell split the regular season series 1-1-1 and entering the game eight of the last nine meetings between the two teams had been decided by one goal or ended in a tie. Friday's game was another tightly contested contest.
Lenes buried a rebound with 1:41 left in the first period on an odd man rush in transition to make it 1-0 Catamounts. Lowell goalie Carter Hutton (27 saves) stopped a blast by sophomore Wahsontiio Stacey (Kahnawake, Quebec) from the right circle but kicked the rebound to Lenes, who potted his 14th goal of the season.
Junior Viktor Stalberg (Gothenburg, Sweden) setup Dean Strong (Mississauga, Ont.) at 2:21 of the second period to give Vermont a 2-0 lead. Strong deked Hutton at the left post and stuffed the puck in for his fifth goal of the season.
Freshman Michael Scheau scored on a rebound to cut the deficit in half 13 minutes into the second for the River Hawks.
Lawson opened up a two-goal cushion again for the Catamounts with a blast from the point at 4:16 of the third period. Stacey and freshman Drew MacKenzie (New Cannan, Conn.) both assisted on the goal that made it 3-1 Vermont.
However, the River Hawks scored three unanswered goals with Edwards completing the comeback with 2 seconds left in overtime. Sophomore Scott Campbell setup the winner from behind the goal line as UML handed UVM just its fourth loss in the last 91 games, and the first this season, when leading after two periods.
UMass-Lowell went 1-for-6 on the power play while Vermont was 0-for-3. UML is 51 for its last 53 on the penalty kill.
"That's why it's a playoff series, not a playoff game," Sneddon added. "Right now we've got to win two games. We've been there before. Again, I thought we played pretty well tonight, just disappointed obviously again in not stepping on the throat when we had them up 3-1. So we'll learn from our mistakes and come back hard at it again tomorrow."
Vermont and Lowell meet in Game 2 of the Hockey East Quarterfinals at Gutterson Fieldhouse on Saturday at 7:05 p.m. The game is sold out.
NOTES: Vermont is 2-2-5 in overtime this season and 11-7 in one-goal games ... UML is 5-4-2 all-time at Gutterson Fieldhouse ... Viktor Stalberg has at least on point in 22 of the last 25 games ... The fifth-seed is 18-30-2 all-time against the fourth-seed in the Hockey East playoffs.