Saturday, January 24, 2009
MASSACHUSETTS TIES UP VERMONT, 1-1
Paul Dainton stops 27 for Minutemen; Rob Madore makes 21 saves for Catamounts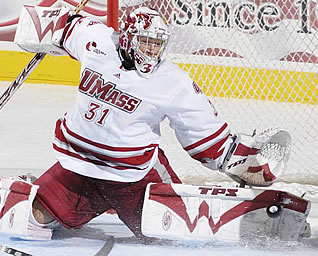 Paul Dainton made 29 saves for the Minutemen
BURLINGTON, Vt. - No. 7 Vermont skated to a 1-1 tie with Massachusetts in front of a sellout crowd at Gutterson Fieldhouse in Hockey East action on Saturday night. Freshman Rob Madore (Venetia, Pa.) made 21 saves for the Catamounts, who moved to 14-5-4 (9-4-3 HEA). Sophomore Paul Dainton stopped 27 shots for the Minutemen (10-11-3, 5-7-3 HEA).
Junior Viktor Stalberg (Gothenburg, Sweden) scored his team leading 14th goal of the season as the Catamounts finished the regular season series 2-0-1 against the Minutemen.
Freshman Casey Wellman notched a power-play goal for UMass.
"It was a good hard fought series," Vermont head coach Kevin Sneddon said. "To come away with three points (this weekend), and two wins and a tie against that program on the season, certainly is good for us. They're going to be a tough team down the stretch."
Stalberg scored 10 minutes into the third period to give the Catamounts a 1-0 lead. Skating in from the left wing, Stalberg deked Dainton and moved around him to the outside to find the net. Junior Brayden Irwin (Toronto, Ont.) and sophomore Dan Lawson (Oak Forest, Ill.) both assisted.
"The goalie was kind of standing in the middle of the net there," Stalberg said. "My first thought was kind of just take a slapper down low, but he came out so far on me I just decided to go around him, and I guess it worked out pretty good."
UMass responded two minutes later with Wellman's power-play goal to tie the game. Sophomore James Marcou found Wellman on the back door at the left post for his sixth goal of the season. It was Marcou's team leading 19th assist of the year.
Vermont had a power play opportunity in overtime and managed three shots on goal but was held scoreless. The Catamounts out shot the Minutemen 13-5 in the opening period and 28-22 for the game.
UVM went 6-for-7 on the penalty kill and 14-for-15 overall on the weekend. The Catamounts (0-for-5) were held scoreless on the power play for the first time in eight games.
"To come out of the weekend with three points, I think we're pretty pleased with that," Madore said. "Obviously we would have liked to have that fourth point, but you know we played a good team this weekend, and to get three points is a success."
Vermont returns to action next Friday at New Hampshire at 7 p.m. in the first meeting between the two teams this season.