VERMONT HOLDS OFF MASSACHUSETTS, 2-1
Milo and Carlson score goals for Catamounts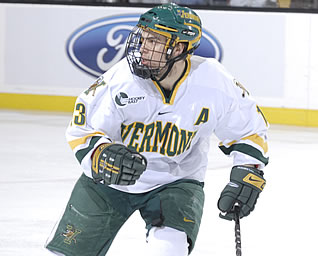 Corey Carlson had the game-winner for Vermont
BURLINGTON, Vt. - No. 7 Vermont went 8-for-8 on the penalty kill and freshman Rob Madore (Venetia, Pa.) made 25 saves to lift the Catamounts to a 2-1 victory against Massachusetts in front of a sellout crowd at Gutterson Fieldhouse in Hockey East action on Friday night. Sophomore Justin Milo (Edina, Minn.) scored a short-handed goal and senior assistant captain Corey Carlson (Two Harbors, Minn.) recorded a power-play goal as the Catamounts improved to 14-5-3 (9-4-2 HEA). Senior Alex Berry scored for the Minutemen, who dropped to 10-11-2 (5-7-2) with the loss.
"I told our team I thought we didn't play very well, and if it wasn't for Rob Madore I think the outcome could've been different," Vermont head coach Kevin Sneddon said. "I thought UMass did a very nice job of using their speed against us; we were pretty bad in our own zone tonight, and we're going to have to be better tomorrow night if we hope to have success. I think Rob was sensational; he was a big difference in the game and the reason why we got two points."
Madore was making his sixth consecutive start and stopped 10 of 11 shots in the third period. He turned away nine power-play shots by UMass. Madore improved to 8-3-2 with a 2.27 goals against average with the win.
Vermont took a 1-0 lead 7:55 into the opening period on Milo's ninth goal of the season. UMass had just started a power play following a 4-on-4, and Wahsontiio Stacey (Kahnawake, Que.) setup Milo in transition. His wrist shot from the left circle beat UMass goalie Paul Dainton (17 saves) top shelf for the short-handed tally.
Carlson gave the Catamounts a 2-0 lead at 12:36 of the second with a power-play goal. His wrist shot from the left circle went past a shielded Dainton for his fifth goal of the year. Senior captain Dean Strong (Mississauga, Ont.) earned his team-high 16th assist and freshman Drew MacKenzie (New Canaan, Conn.) also assisted.
"We put Danny (Lawson) in the front on the unit," Carlson said. "We were going to try to simplify things this week, and put a big body in front and get a screen because we know they like to pack it in. We tried to keep it simple and just get pucks through and hope that he would take away the goaltenders eyes. I just rode up the wall there and stepped to the middle, and I could see Danny was right in front of him so I just kind of floated one in and I don't even think the goalie ever saw it."
Vermont has now scored a power-play goal in eight straight games and has 10 power-play goals in the last seven contests.
Trailing 2-0, UMass cut the deficit in half with 3:01 remaining in the third period. Berry got behind the Vermont defense and beat Madore top shelf with a backhander.
The Minutemen sustained the momentum and had several opportunities for the equalizer with an extra skater late. However, the Catamounts were able to hang on for the victory and move to 10-2-1 in their last 13 games.
"We're happy about the two points," Milo said. "We've got to forget about it and come tomorrow ready to play, and with full intensity."
Vermont is 2-0 against UMass this season and completes the regular season series with the Minutemen on Saturday at 7:05 p.m. at Gutterson Fieldhouse.
NOTES: UMass out shot UVM 26-19 ... Viktor Stalberg had a team-high five shots but had his 11-game scoring streak come to an end ... The Catamounts are 19-4-2 all-time at home against the Minutemen ... Vermont is 18-5 in one-goal games dating back to the start of last season ... The Catamounts are 72-3-11 in their last 86 games in the Kevin Snedon era when leading after two periods ... Vermont is 48-10-12 in its last 70 games when scoring first ... Check back to UVMathletics.com for game highlights.