Saturday, November 15, 2008
HAMILTON, RIVER HAWKS BLANK MINUTEMEN, 2-0
Nevin Hamilton posts shutout with 22 saves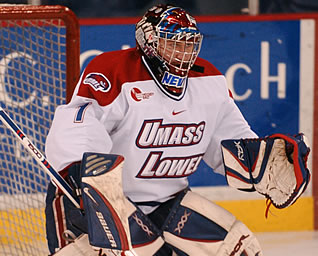 Nevin Hamilton made 22 saves for UMass Lowell
AMHERST, Mass. - The UMass hockey team fell to UMass-Lowell 2-0 on Saturday night at the Mullins Center. The River Hawks received goals from Michael Budd and Scott Campbell. Paul Dainton got the start in goal for UMass (5-2-1, 3-2-1 HEA), making 22 saves while Nevin Hamilton made 22 saves in net for Lowell. The Minutemen will be back in action next weekend when they take on the defending national champion Boston College in a home and home series. UMass will travel to Chestnut Hill on Friday before returning home to host the Eagles on Saturday. The puck is scheduled to drop at 7 PM for both contests.
The River Hawks outshot the Minutemen 24-22, and the Minutemen went 0-4 on the power play. UMass-Lowell (5-4-0, 3-2-0 HEA) went 1-3 on the man advantage, snapping the Minutemen's consecutive penalty killing streak at 29, dating back to the game at Rensselaer (Oct. 21)
Both teams had limited chances during the opening period, with UMass outshooting Lowell 8-6. The Minutemen were awarded two power plays during the frame, but the Lowell penalty killing unit did a good job of blocking shots and minimizing the UMass opportunities. The River Hawks also had a chance on the man advantage, but Dainton was there to turn away any significant opportunities.
The River Hawks came out hard in the second period, outshooting the Minutemen 11-5 and scoring the lone goal of the frame. Near the midway mark of the stanza, Budd scored his first collegiate goal when he took a pass from David Vallorani and beat Dainton five-hole.
Massachusetts got its third chance on the power play right after the goal, but the could not generate any opportunities in the Lowell zone. Mike Lecomte nearly tied up the game when he had several chances in front of the net, but Hamilton was there to preserve Lowell's lead.
The Minutemen had several chances to get back into the game during the third period, but Lowell added an insurance marker when Scott Campbell netted his third goal of the season with 7:57 to play in regulation. While on the power play, Campbell received a pass from Vallorani in the slot and beat Dainton low. The goal snapped UMass' consecutive penalty killing streak at 29 straight.
UMass tried to cut into the lead in the final minutes, and Alex Berry nearly got the Minutemen on the board when he took a one-timer from the point that rang off the post.