Saturday, January 17, 2009
MASSACHUSETTS EDGES UMASS LOWELL, 4-3
Paul Dainton makes 30 saves for Minutemen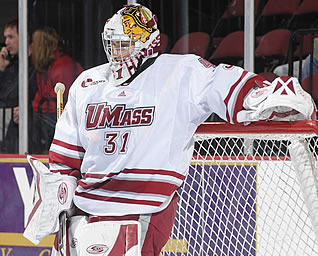 Paul Dainton made 30 saves for the Minutemen
LOWELL, Mass. - Alex Berry (Danvers, Mass.) had a goal and an assist as Massachusetts defeated UMass Lowell, 4-3, Saturday night in Hockey East action at the Tsongas Arena.
The Minutemen improved to 10-10-2 overall and 5-6-2 in league play with the win. The loss drops the River Hawks to 9-12-0 overall and 6-8-0 against the league.
Berry had two points on the night, opening the scoring in the first period, and was one of nine Minutemen with points in the game. Chase Langeraap (Cayuga, Ont.), Justin Braun (Vadnais Heights, Minn.) and Will Ortiz (Framingham, Mass.) also scored for UMass.
Ben Holmstrom (Colorado Springs, Colo.), Kory Falite (Billerica, Mass.) and Maury Edwards (Rocky Rapids, Alta.) scored for UMass Lowell.
The Minutemen never trailed in the game, scoring first and holding three different leads to earn the 4-3 win, their first in six games against the River Hawks.
Massachusetts opened its largest lead of the game in the third period scoring two straight goals. Braun scored shorthanded at 5:33 of the period to give the Minutemen their third lead of the night.
Ortiz followed with his fifth goal of the season deflecting a shot from John Wessbecker (Victoria, Minn.) at 8:30 of the third. T.J. Syner (Springfield, Mass.) had the secondary assist on the game, the game-winner.
Twenty-four seconds after Ortiz's goal, Edwards tallied his eighth goal of the season to cut the lead to one. Edwards, who also had an assist in the game, scored for the third straight game. He has two multi-point games in the last three.
Paul Worthington also had a multi-point game for UMass Lowell with two assists.
Paul Dainton (Genelle, B.C.) made 30 saves to pick up his seventh win of the season. He stopped nine of the 10 third period shots he faced.
Nevin Hamilton (Ashland, Mass.) had 21 saves in the game for UMass Lowell, but took the loss. He is 5-5-0 on the season.
The River Hawks went 1-for-6 on the power play, their fifth straight game with a man-advantage goal. The Minutemen were 0-for-4 on the power play.
UML out-shot UMass 33-25 for the game, including a 16-9 edge in the first period.
The River Hawks return to the ice Thursday night to host Merrimack. UML is at Merrimack Saturday night. The Minutemen are next in action Friday night in the first game of a weekend series at Vermont.