NEW HAMPSHIRE FALLS TO ST. LAWRENCE, 4-1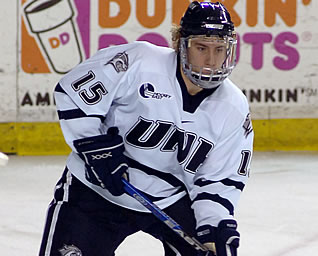 Danny Dries scored the Wildcat goal
CANTON, N.Y. -- Senior defenseman Zach Miskovic scored two goals on a team which had not allowed more than one in a game this season and goalie Alex Petizian won his third straight start as the Saints upended nationally ranked New Hampshire 4-1 at Appleton Arena Sunday night.
New Hampshire, which went into the game 3-0-1 and ranked third in one national poll and fourth in another, had not allowed more than one goal in a game in its first four starts this season, but the Saints, 3-2-0, jumped out to a 2-0 lead in their home opener and went on to beat the Wildcats for the second straight year.
"That was an excellent performance against a highly skilled hockey team," said Saint coach Joe Marsh. "We came out strong and got some big plays offensively, and I thought we played a solid defensive game in front of Alex from start to finish. He made some big saves and is playing with a lot of confidence, but he had some help out there tonight."
The Saints came out flying and grabbed the lead midway through the first period with a pair of goals just under three minutes apart. Senior center Brock McBride scored the first, picking up a rebound of a power play shot by Casey Parenteau and snapping it back past UNH goalie Brian Foster at 9:15. McBride then stole the puck from a UNH defender after a UNH faceoff win in its defensive end and while Foster was able to stop the first shot, Mike McKenzie pounced on the rebound and put it away for his third of the year at 12:09.
The Wildcats cut the Saint lead to 2-1 at 10:57 of the second when Danny Dries put back a rebound of a shot by James van Riemsdyk, but St. Lawrence regained its two-goal lead just over three minutes later. Miskovic scored his second of the season as he snapped a shot past Foster along the ice from Aaron Bogosian and Jacob Drewiske with the two teams skating four on four at 13:02.
The two teams were whistled for nine penalties in the third period and there were eight power play chances, but the Saints stayed nearly perfect on the penalty kill, stopping all seven UNH chances, and added a power play goal by Miskovic to ice the win. Alex Curran and Travis Vermeulen set up Miskovic's second of the night and third of the year and the senior defender picked the upper corner with 2:58 to go to seal the win.
"Misko is really playing well and he is putting the puck on net. His second one was a great shot into a small opening in the upper corner. He is picking up right where he left off last year," added Marsh.
UNH had a late two-man advantage and pulled Foster for an extra attacker and a six-on-three manpower advantage, but the Saints were able to kill it off as Petizian made a couple of saves and the Saint defense iced the puck without penalty with UNH on the power play. The Saints have now killed 38 of 39 power plays in their first four games this season.