Friday, November 28, 2008
MASSACHUSETTS EDGED BY ST. LAWRENCE, 4-3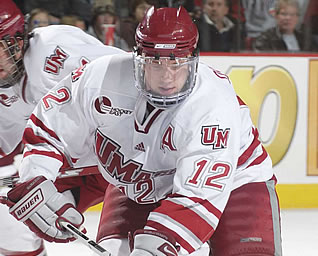 Cory Quirk scored twice for the Minutemen
AMHERST, Mass. - The St. Lawrence Saints came into the Mullins Center Friday night and downed No. 17 UMass Hockey, 4-3. Cory Quirk led the way for the Minutemen with two goals and an assist while Alex Berry scored his fifth goal of the season. Zach Miskovic had two goals for the Saints. The Minutemen were down 4-1 with just over a minute to play in regulation before they scored two quick goals to bring the game back to one. But the Saints recovered and escaped with a victory. Robby Moss made 24 saves in goal for St. Lawrence in the win, while Paul Dainton made 17 saves for the home team. UMass will be off until next Friday when they will play host to UConn. Gametime is scheduled for 7 PM.
UMass (6-6-1) had six power play opportunities during the contest, including four during the second period. But St. Lawrence (5-6-1) was able to get their sticks in the passing lanes and block shots. St. Lawrence was awarded three power plays, but could not convert on any of them. For the game, the Minutemen outshot the Saints 27-21.
The Minutemen had several chances during the first period, but it was the Saints who skated away with two goals in the frame. The first came 6:38 into the period Alex Curran netted his first goal of the season off a pass from Mike McKenzie. After McKenzie collected the puck in the UMass zone, he threw the puck towards Dainton where Curran redirected it home for the score. The Saints extended their lead with two minutes left in the stanza when Miskovic took a wrister from the slot that beat Dainton.
The Saints shut the Minutemen down in the second period, especially on the power play, blocking ten UMass shots during the man advantage. McKenzie brought the St. Lawrence lead to three near the midway mark of the period when he picked up a loose puck in the neutral zone and skated in alone towards Dainton. McKenzie deeked left and snuck the puck past Dainton.
Quirk got UMass on the board with five minutes to play in the stanza with a short handed marker. After Scott Crowder threw a puck on Moss from the left side, Quirk was there to pop home the rebound to bring the game to 3-1 heading into the locker room.
UMass outshot the Saints 11-6 during the third period, but the goals came a bit too late, as the Minutemen netted two goals with one minute to play. The first came with 1:03 to play in regulation as Quirk netted his second goal of the game. After Quirk received a pass from James Marcou, Quirk took a low shot from the bottom of the right faceoff dot that someone got past Moss. About 30 seconds later Berry notched his fifth of the season when he let a wrist shot go from the point.