RIVER HAWKS TOP ST. FRANCIS XAVIER, 6-1
David Vallorani and Patrick Cey each post goal and assist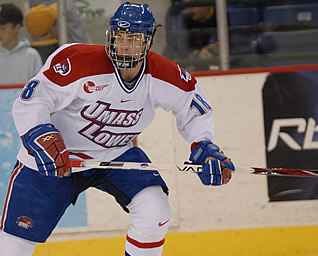 Patrick Cey had a goal and an assist for UMass Lowell
LOWELL, Mass. (Oct. 5, 2008) - David Vallorani (Hamilton, Ont.) and Patrick Cey (Saskatoon, Sask.) each had a goal and an assist as UMass Lowell defeated Saint Francis Xavier, 6-1, in an exhibition hockey game Sunday afternoon at the Tsongas Arena.
In addition to Vallorani and Cey, Nick Schaus (Buffalo, N.Y.), Kory Falite (Billerica, Mass.), Michael Budd (Burlington, Ont.) and Mark Roebothan (St. John's, Nfld.) scored for the River Hawks.
Sean Flinn (Halifax, N.S.) scored the only goal for the X-Men.
Six of the seven goals scored on the afternoon came in the first period. Three of the five freshmen in the lineup for UML recorded at least one point. Along with Vallorani and Budd's goals, Matt Ferreira (Brampton, Ont.) picked up an assist.
Juniors Schaus and Falite opened the scoring in the hockey game with goals one minute apart in the first period. Schaus got the game's first goal, on the power play, at 3:40 with an assist from Scott Campbell (Navan, Ont.) and Barry Goers (Ivyland, Pa.). Falite made it 2-0 at 4:40. Paul Worthington (Langhorne, Pa.) had the assist on Falite's strike.
Flinn got the X-Men on the board at 10:13 of the opening period. Rob Warner (Whitehorse, Y.T.) and Ryan Desrosiers (New Waterford, N.S.) assisted on the goal.
The River Hawks added three more goals before the first period ended. Vallorani answered the Flinn goal at the 16:05 mark of the period. Linemates Sammy D'Agostino (Medford, Mass.) and Cey had the assists.
Budd added to the UML lead at 16:51 - 46 seconds after Vallorani's goal. Ferreira and Nick Monroe (Groton, Mass.) had the assists.
At 19:41 the line of Cey, Vallorani and D'Agostino combined for another goal. Cey scored the goal, at 19:41, with assists from Vallorani and D'Agostino.
Neither team scored again until late in the third period when Roebothan tallied at 18:14 of the third period. Campbell picked up his second assist of the afternoon winning the face off before slipping the puck to Roebothan.
Carter Hutton (Thunder Bay, Ont.) started the game for the River Hawks and made four saves - allowing one goal - in 29:45 of action.
Freshman T.J. Massie (Lexington, Mass.) played the final 30:12 of the contest. Massie stopped all nine shots he faced.
Ryan Aschaber (Peterborough, Ont.) took the loss in goal for Saint Francis. Aschaber made 34 saves and allowed all six goals.
The River Hawks out-shot the X-Men 40-14 for the game. UML was 1-for-4 on the power play.
Sunday's exhibition contest as UML's only of the 2008 pre-season. The River Hawks open the regular season Saturday night, October 11 at Colgate. Game time is set for 7:00 p.m.