Saturday, February 7, 2009
VERMONT EARNS WEEKEND SWEEP WITH 4-1 WIN OVER PROVIDENCE
Viktor Stalberg posts three-point game for Catamounts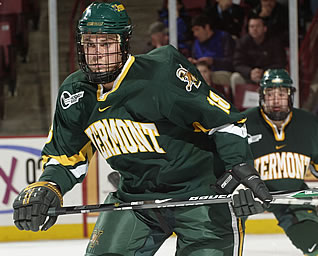 Viktor Stalberg had two goals and an assists for Vermont
BURLINGTON, Vt. - Junior Viktor Stalberg (Gothenburg, Sweden) scored two goals and had an assist as No. 7 Vermont completed a weekend sweep of Providence with a 4-1 victory in front of a sellout crowd at Gutterson Fieldhouse in Hockey East action on Saturday night. Freshman Rob Madore (Venetia, Pa.) stopped 29 shots as the Catamounts improved to 16-6-4 (11-5-3 HEA) and moved within four points of Hockey East leading Northeastern who was idle.
Junior Brian Roloff (West Seneca, N.Y.) added a goal and an assist while sophomore Wahsontiio Stacey (Kahnawake, Que.) had two assists for the Catamounts. Sophomore defenseman Kyle Medvec (Burnsville, Minn.) notched his second goal of the season. Vermont finished the regular season series 2-0-1 against Providence after winning Friday's game by the score of 4-1 as well.
"You've got to take care of business at home," Vermont head coach Kevin Sneddon said. "It's so tough on the road to win in this league that anytime you can take three points at home it's great; but taking four is really good."
"I think playing against a spirited team like Providence was a difficult task," Sneddon added. "You can't look at the standings, you can't look at who the opponent is or what it says on the front of their jersey. At this point of the year everybody's good. So, to win two games while not playing to the best of our ability shows me that we do have a good team."
Stalberg gave Vermont a 1-0 lead 4:23 into the opening period with a one timer from the left circle. Roloff and Stacey setup the goal in transition.
Providence out shot Vermont 11-4 in the first 20 minutes but didn't get on the scoreboard until 8:02 of the second. Senior Nick Mazzolini knocked in a rebound for a power-play goal to tie the game 1-1.
Less than four minutes later Roloff scored his seventh goal of the year to give the Catamounts a 2-1 advantage. Stacey and Stalberg setup Roloff in the slot and his hard low shot beat PC goalie Alex Beaudry (13 saves) just inside the right post at 11:49.
"It was kind of a turnover at center ice," Roloff said. "Viktor (Stalberg) hopped in the middle with some speed, and made a pass to the outside to Wahs (Stacey), and you know as the coaches tell us to do, he put his head down and went straight to the net. Sure enough he took the D with him, and I just kind of slipped in behind, Wahs made a nice play and I had all day."
Medvec put the Catamounts in front 3-1 at 17:44 of the second with a goal from the left point. Medvec's shot redirected off of PC's Kyle Laughlin and went past Beaudry. Junior Brayden Irwin (Toronto, Ont.) and sophomore Josh Burrows (Prairie Grove, Ill.) both earned assists.
The Friars out shot the Catamounts 14-2 in the final period but Madore didn't allow an even strength goal on the weekend. He improved to 10-4-3 on the season with the win. His .924 save percentage ranks 11th in the country and his 2.08 goals against average is 13th best.
Stalberg capped off the victory by scoring an empty netter with 20 seconds left for his team leading 18th goal of the season.
Vermont returns to action next Friday (Feb. 13) and Saturday (Feb. 14) at 7 p.m. at the Volpe Athletic Complex against Merrimack.
"I told the guys we're in pursuit of excellence," Sneddon said. "I'm going to push until we get that. This weekend wasn't about pursuing excellence, it was about finding a way to win, which is good, but we need to pursue excellence. I told them I'm not going to lay off until I feel we're at that point. That's my job, I need to keep pushing them."