VERMONT RALLIES PAST PROVIDENCE, 4-1
Four different players score goals for Catamounts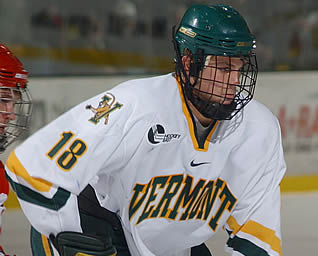 Viktor Stalberg had a goal and an assist for Vermont
BURLINGTON, Vt. - No. 7 Vermont scored four unanswered goals and freshman goalie Rob Madore (Venetia, Pa.) made 25 saves en route to a 4-1 victory against Providence in front of a sellout crowd at Gutterson Fieldhouse in Hockey East action on Friday night. Senior assistant captain Corey Carlson (Two Harbors, Minn.) scored the game-winning goal 11 seconds into the third period as the Catamounts improved to 15-6-4 (10-5-3 HEA).
Senior assistant captain Peter Lenes (Shelburne, Vt.) and sophomore Wahsontiio Stacey (Kahnawake, Que.) also had goals for the Catamounts. Junior Viktor Stalberg (Gothenburg, Sweden) added an empty netter for his team leading 16th goal of the season.
"Providence did a good job coming out and forechecking us hard and we really struggled to get anything going early on," Vermont head coach Kevin Sneddon said. "I thought our second and third periods were some of the best hockey we've played. I really liked our intensity on both ends of the rink."
Providence (7-15-3, 4-11-3 HEA), who entered the game 5-2-2 in its last nine contests, took a 1-0 lead at 8:58 of the opening period on a power-play goal by Pierce Norton. Senior Nick Mazzolini, the reigning Hockey East Player of the Week, setup Norton in the low slot for his seventh goal of the season.
Lenes tied the game 1-1 at 3:45 of the second period with his 11th goal of the year. Sophomore Kyle Medvec (Burnsville, Minn.) fired a shot from the slot and Lenes was there to stuff in the rebound. Senior captain Dean Strong (Mississauga, Ont.) also assisted.
Vermont out shot Providence 16-6 in the second period but the game was tied 1-1 going to the third.
Just 11 seconds into the final period Carlson gave the Catamounts the lead for good. Strong won the opening face off to Patrick Cullity (Tewsbury, Mass.), who chipped the puck up to Carlson on the right wing. His wrist shot from the circle went off the shoulder of Providence freshman goalie Alex Beaudry (28 saves) and into the net.
"The game-winning goal is always the most exciting goal you can get," said Carlson, who has a team best four game-winning goals this season. "It is what you want to get and no better goal than one like that. I didn't actually know it went in when I shot it. I thought it hit his shoulder but I didn't know where it went and as I skated around the net I saw that it was dropping to the back post and that's when I knew it was a goal."
The Catamounts extended their lead to 3-1 when Stacey notched his sixth goal of the year in transition at 9:50. Stalberg, the Hockey East Player of the Month in January, found Stacey between the circles and his wrister beat Beaudry to the left corner.
Stalberg capped off the victory with an empty netter with 40 seconds remaining.
Vermont out shot Providence 32-26. The Catamounts went 0-for-3 on the power play while the Friars were 1-for-3.
Vermont and Providence complete the regular season series on Saturday at 7:05 p.m. at Gutterson Fieldhouse.
"They are going to bring a good game tomorrow, and we want to match that, if not, play better," Peter Lenes said. "I think we can and we are going to depend on four lines rolling like we did tonight, six defensemen, and whoever plays tomorrow in goal. I think we are confident and that is one of the big strengths of our team."