Saturday, February 14, 2009
NEW HAMPSHIRE NOTCHES 4-2 WIN AGAINST PROVIDENCE
Steve Moses scores two goals for Wildcats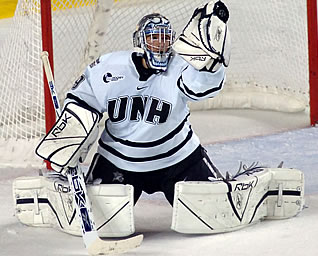 Brian Foster made 31 saves for the Wildcats
PROVIDENCE, R.I. - The Providence College men's hockey team was defeated by No. 12 UNH Saturday night in a Hockey East game played at Schneider Arena. The Wildcats scored two goals in a 00:16 in the third period en route to the win.
UNH (14-9-5, 10-7-4) opened the scoring at 17:23 of the first period Jerry Pollastrone scored from the slot. The Friars (7-17-4, 4-13-4) tied the game at 4:51 of the second period when sophomore Ian O'Connor collected a rebound off his own shot and potted his sixth goal of the season. Steve Moses then gave UNH the lead (2-1) with his fourth goal of the season at 13:11.
In the third period, the Wildcats scored two quick, early goals to increase their lead to 4-1. Moses tallied his second of the night at 3:20, while Paul Thompson added his fourth of the season at 3:36 as the Wildcats had a three-goal lead. The Friars pulled to within, 4-2, when senior Nick Mazzolini scored on a slap shot from the point. It marked Mazzolini's seventh goal of the season, and his fifth in the in the last six games.
Brian Foster finished with 31 saves, while freshman Alex Beaudry and junior Ryan Simpson combined to make 20 stops. For Simpson, it marked his first appearance since March 15, 2008.
The Friars are back in action on Saturday, February 21 at Merrimack, while UNH hosts Boston College on Friday, February 20.