PROVIDENCE COLLEGE FALLS TO QUINNIPIAC, 5-2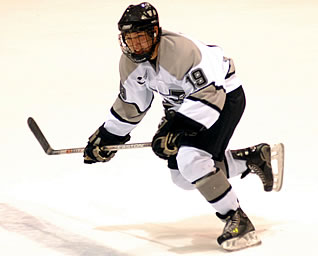 Chris Eppich scored his first collegiate goal
HAMDEN, Conn. -- The Providence College men's hockey team was defeated by Quinnipiac, 5-2, on Friday, December 5 in a non-conference game played at the TD Banknorth Sports Center in Hamden, Conn. Quinnipiac jumped out to a 3-0 first period lead and never looked back en route to the win.
Brand Wong, Jean-Marc Beaudoin and David Marshall each scored for Quinnipiac in the first period as the Bobcats jumped out to a 3-0 advantage. The Friars cut the lead to 3-1 at 9:25 of the second period when junior Chris Eppich (Surrey, B.C.) scored his first collegiate goal. After sophomore Matt Germain (Rockland, Mass.) fired a shot that went off the glass behind the Quinnipiac goal, the puck came back in front to Eppich whose back hander beat Quinnipiac goalie Nick Pisellini. Sophomore Jordan Kremyr (Cloverdale, B.C.) also assisted on the goal. However, the Bobcats regained their three-goal lead (4-1) at 15:47 when Bryan Leitch scored right off a faceoff.
Quinnipiac scored 28 seconds into the third period to increase its lead to 5-1. The Friars pulled to within 5-2 when freshman Matt Bergland (Faribault, Minn.) recorded his fourth goal of the season at 10:13. Juniors John Cavanagh (Warwick, R.I.) and Mark Fayne (Sagamore Beach, Mass) assisted on the goal.
The Friars are back in action on Tuesday, December 9 when they travel to Brown to take on the Bears in the 23rd Annual Mayor's Cup.