Friday, November 14, 2008
HUSKIES NOTCH 5-3 WIN OVER CATAMOUNTS
Ryan Ginand notches two goals for Northeastern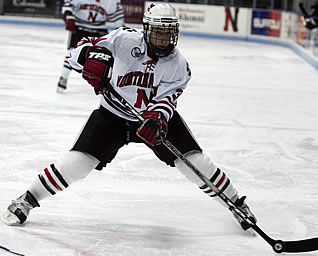 Ryan Ginand scored twice for the Huskies
BURLINGTON, Vt. - Freshman Alex Tuckerman recorded a goal and two assists and senior Ryan Ginand added two goals to lead No. 7 Northeastern to a 5-3 victory over No. 15 Vermont in front of a sellout crowd of 4,003 at Gutterson Fieldhouse in Hockey East action on Friday night. The Huskies improved to 7-1-2 (5-1-1 HEA) with the win while the Catamounts (4-3-2, 1-3-1 HEA) had their three-game unbeaten streak come to an end with the loss.
Junior Viktor Stalberg (Gothenburg, Sweden) and sophomore Justin Milo (Edina, Minn.) each scored a power-play goals. Junior Brian Roloff (West Seneca, N.Y.) added a score during a 4-on-4 for the Catamounts.
"We have to put this one away and watch the video to get our point across tomorrow," Vermont head coach Kevin Sneddon said. "I'll tell you one thing, we'd better not take any team in this league for granted; Merrimack is playing fantastic hockey right now."
"We only played great in stretches and you can't win in this league if you're going to do that. We've got to keep getting our point across until it sinks in, and I think once we do that we will be a pretty good hockey team. The worst thing you can say about a hockey team is that they are inconsistent, so right now, we are not a good hockey team and it's my job to fix it."
The Catamounts carried play through the first 10 minutes of the game and took a 1-0 lead at 7:22 of the first when Stalberg scored his fourth goal of the season. Roloff setup the goal on a give-and-go from the bottom of the right circle to end Northeastern's streak of stopping 19 straight power plays. Senior assistant captain Peter Lenes (Shelburne, Vt.) also picked up his team high ninth assist of the season on the play.
Northeastern tied the game 1-1 on a shorthanded goal by sophomore Tyler McNeely at 16:43 of the first. Vermont turned the puck over in its own zone and Tuckerman found McNeely, who beat freshman Rob Madore (Venetia, Pa.) top shelf with a backhander.
The Huskies added two more goals early in the second period to jump in front 3-1. Silva scored at even strength at 2:13 and Ginand scored on the power play at 5:15.
Following the goals Sneddon called timeout for the Catamounts, who were out shot 12-5 in the second period and 28-24 for the game. Out of the timeout Roloff pulled Vermont back to within a goal with his third score of the season at 8:56. Stalberg setup the score at the left post during a 4-on-4.
Tuckerman put Northeastern back in front by a pair of goals at 12:18 of the second on a nice goal in transition. Sophomore Steve Silva made a perfect pass from the left circle to find Tuckerman at the right post to make it 4-2.
Ginand scored on the power play at 7:45 of the third period to make it 5-2 Northeastern. Milo pulled Vermont within 5-3 with a power-play goal at 9:44 but the Catamounts would get no closer. It was the team-high fifth goal of the season for Milo.
"It's really important (to play 60 minutes of hockey)," Milo said. "Everybody says that we keep showing signs of being a great team, but we're not doing it for an extended period of time. We're just doing it for spurts. We need to put together one shift at a time and do it for 60 minutes. It's been kind of frustrating not being able to do that lately."
Madore finished with 23 saves in his fourth career start for the Catamounts. Junior Brad Thiessen, who entered the game ranked fourth nationally in save percentage, stopped 21 of 24 shots for the Huskies.
Vermont went 2-for-6 on the power play and Northeastern was 2-for-7.
"It's frustrating because it would be one thing if we didn't see flashes of greatness and just got beat by a better team; I think the team that played better won tonight," Sneddon said. "They played a better game. I think at times we looked like the better team, but they played a better game and certainly deserved to win from start to finish."
Vermont returns to action on Sunday at 4 p.m. against Merrimack at Gutterson Fieldhouse. Approximately 100 tickets remain for the game and are available online at www.UVMathletics.com.
NOTES: Vermont has five power-play goals in its last three games ... Kevin Sneddon fell to 8-4-3 against Northeastern as head coach at Vermont ... The Catamounts are 1-3-1 against ranked teams this season ... All three UVM losses have come at the hands of teams ranked in the top-7 (No. 3 Boston College, No. 3 Boston University and No. 7 Northeastern) ... Viktor Stalberg had a team-high four shots and he has a team leading 32 shots on the season.