NEW HAMPSHIRE UPENDS NORTHEASTERN, 4-2
Phil DeSimone scores game-winner with 2:55 to play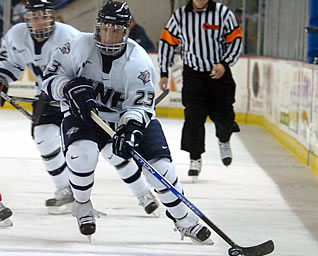 Phil DeSimone potted the game-winner for the Wildcats
DURHAM, N.H. - Sophomore forward Phil DeSimone (East Amherst. N.Y.) scored the game-winning goal with 2:55 left in the game to give the sixth-ranked University of New Hampshire men's hockey team a 4-2 over No. 9 Northeastern in front of a sellout crowd of 6,501 at the Whittemore Center Arena on Friday night.
DeSimone won the faceoff at the left circle and classmate James van Riemsdyk (Middletown, N.J.) collected the puck and fired the initial shot at NU netminder Brad Thiessen. Thiessen made the first save and then gave up a rebound to DeSimone, which he deposited in the net for his second of the season with a wrist goal past the glove. Sophomore forward Mike Sislo (Superior, Wis.) extended UNH's lead to two goals with an empty-netter with 30 seconds remaining for his second goal of the season for the 4-2 final score.
The Wildcats improve to 4-1-1, 2-0-1 HEA on the season, while Northeastern falls to 5-1-1 overall and 4-1-0 in Hockey East play. The Wildcats handed NU its first loss of the season, as they were the last remaining undefeated league team.
van Riemsdyk got the 'Cats on the scoreboard first with his fourth goal of the season on UNH's fourth power play opportunity of the game. Junior Bobby Butler (Marlboro, Mass.) extended UNH's lead to 2-0 with his first tally of the season at the 8:26 mark. Freshman forward Alex Tuckerman helped NU get back in the scoring column, as the Huskies capitalized on their 5-on-3 advantage with 3:42 left in the second frame.
Junior goalie Brian Foster (Pembroke, NH.) made 27 saves, including 16 in the final stanza, en route to his fourth win of the season, while Husky netminder Brad Thiessen amassed 33 stops in the contest, including 25 saves in the final two periods.
UNH went 0-for-3 in the first period with but teams getting limited scoring chances. The Wildcats outshot NU, 8-6 in the first period. NU's Ryan Ginand had the best scoring chance of the period went he came down the slot untouched and fired a shot between two UNH defenders that hit the post.
The Wildcats will finish up the weekend series with the Huskies on Saturday night at Matthews Arena in Boston. UNH will take on WCHA foe Minnesota for a two-game series beginning next Friday night at Mariucci Arena in Minneapolis, Minn. Both games will be televised live by Fox SportsNet North.