Saturday, November 1, 2008
NORTHEASTERN, NEW HAMPSHIRE SKATE TO 2-2 TIE
Thiessen stops 43 shots for Huskies; DiGirolamo makes 22 saves in debut for Wildcats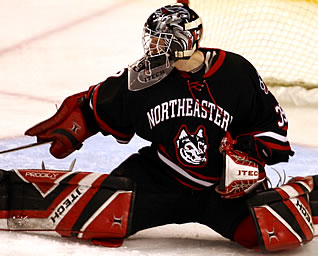 Brad Thiessen made 43 saves for the Huskies
BOSTON, Mass. - No. 9 Northeastern came back from a 2-0 deficit to tie No. 6/7 New Hampshire 2-2 before a crowd of 4,761 on Saturday night at Matthews Arena. Sophomore Tyler McNeely and senior Ryan Ginand scored in the second period for NU while goalie Brad Thiessen made 43 saves. Northeastern's penalty kill held UNH scoreless on 10 power plays.
With the tie, Northeastern is 5-1-2 on the season, including a 4-1-1 Hockey East mark. The Huskies are atop the Hockey East standings by three points. New Hampshire is 4-1-2 overall and 2-0-2 in the league with the tie.
Down, 2-0, the Huskies mounted a comeback in the final minutes of the second period. In the 18th minute, junior David Strathman and sophomore Alex Tuckerman battled for the puck in the corner. Tuckerman nudged it to McNeely, who was open in front. McNeely roofed it past New Hampshire goaltender Matt DiGirolamo to make it 2-1 at 17:20. It was McNeely's third goal of the season.
Less than two minutes later, the Huskies tied the game. Wade MacLeod passed the puck to Strathman, who took it into the zone on the right side. He centered the puck into the slot, where Joe Vitale and Ginand were converging. Ginand swept in from the left circle and shot it past DiGirolamo to tie the game. It was Ginand's team-leading fourth goal of the season. He has two game-winners and a game-tying goal.
New Hampshire took the lead in the first period on Paul Thompson's second goal of the season. Alan Thompson passed the puck from behind the net to Paul Thompson, who was open in front and shot it past Thiessen at 9:33 in the first.
The Wildcats opened their lead to two goals on a Peter LeBlanc score at 4:51 in the second period. LeBlanc, Bobby Butler and Steve Moses flew into the Husky zone on an odd-man rush and LeBlanc put the puck past Thiessen.
Thiessen, a junior, battened down the hatches after LeBlanc's goal, making 11 saves in the second period, 13 in the third and five in overtime. He made several highlight reel saves. Mike Sislo got out of the penalty box at 10:18 in the second and got the puck for a breakaway, but Thiessen made the save. In the final seconds of overtime, UNH's Danny Dries went in for an open shot but Thiessen came up aces again.
Northeastern's penalty kill was outstanding, stopping the Wildcats on 10 power plays, including a pair of 5-on-3s that totaled 2:20. In addition, the Huskies' defense blocked 30 shots.
Next Saturday, Northeastern hosts Bentley for the first time ever at Matthews Arena at 7 p.m. The game will be broadcast on WRBB Radio and have live video on GoNU.TV.