Friday, February 27, 2009
NORTHEASTERN SHUTS OUT UMASS LOWELL, 3-0
Mike McLaughlin has goal and assist for NU; Brad Thiessen stops 24 in Husky net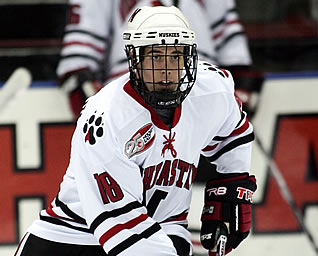 Mike McLaughlin had a goal and an assist for NU
BOSTON, Mass. - Huskies goalie Brad Thiessen made 24 saves en route to his ninth career shutout as Northeastern beat UMass Lowell, 3-0, on Friday night at Matthews Arena. Freshman Mike McLaughlin scored the only goal the Huskies needed at 8:02 in the first period and Steve Silva and Jim Driscoll followed with insurance goals.
Northeastern improved to 21-8-4 overall and 16-5-3 in Hockey East with the victory while UMass Lowell fell to 15-14-2 and 12-10-2. The teams rematch at Tsongas Arena on Saturday at 7 p.m.
UMass Lowell came out with early momentum until McLaughlin's score. Alex Tuckerman passed the puck behind the goal to Kyle Kraemer and Kraemer passed it back to Tuckerman beyond the goal line on the right side. Tuckerman fired a pass to McLaughlin in front and he roofed past UMass Lowell goaltender Nevin Hamilton to make it 1-0 at 8:02 in the first period.
Northeastern added to the lead just over two minutes later with Silva's goal. David Strathman passed the puck through the neutral zone on to McLaughlin on the left side and McLaughlin took it in along the boards. He centered a pass toward Silva, who got a stick on it and redirected it toward the net. The bouncing puck got past Hamilton to make it 2-0 at 10:11.
Driscoll made it 3-0 just 3:08 into the second period. Randy Guzior took the puck into the zone on the right side and passed it to Driscoll in the slot. Driscoll beat Hamilton with a dart past his stick side for the score.
UMass Lowell outshot NU, 14-6, in the second period but couldn't get a shot past Thiessen. UML's Jeremy Dehner got three shots on net and three other players got a pair on goal but couldn't beat Thiessen.
The third period saw Northeastern outshoot UMass Lowell, 9-8. UML's Matt Ferreira got two shots up close and Patrick Cey made a nice deflection that Thiessen saved.
With the victory, Thiessen improved his season numbers to 21-8-4 with a 2.13 goals against average and a .931 save percentage. The shutout was Thiessen's third of the season and the ninth of his career, which extends his NU record.
Northeastern honored its 25th anniversary Hockey East All-Northeastern team during the first intermission. Forwards Jay Heinbuck (1982-86), Rod Isbister (1982-86), Harry Mews (1986-90), David O'Brien (1984-88) and Jordon Shields (1992-96), defensemen Jim Averill (1981-85) and Rob Cowie (1987-91) and goaltender Bruce Racine (1984-88) were on hand for the ceremony. Forward Jason Guerriero (2001-05) and defensemen Jim Fahey (1998-2002) and Dan McGillis (1992-96) are all currently playing professional hockey in Europe. Thiessen was also named to the team.
Northeastern reached 21 wins for just the fourth time in program history, the first time since the Huskies went 21-15-3 in 1997-98. Northeastern went 25-9-2 in 1981-82 and went 21-13-3 in 1987-88.
The teams are back in action with a rematch on Saturday at Tsongas Arena at 7 p.m. The game will be broadcast live on 890 ESPN Boston and WRBB Radio.