NORTHEASTERN UPENDS PROVIDENCE, 3-1
Mike McLaughlin scores two goals for the Huskies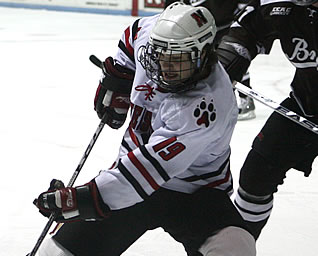 Wade MacLeod had three assists for the Huskies
PROVIDENCE, R.I. - The Providence College men's hockey team was defeated by fifth-ranked Northeastern, 3-1, Friday night in a Hockey East game at Schneider Arena. The loss ended the Friars' season-long five-game unbeaten streak as they fell to 6-13-2 overall and 3-9-2 in the league. The Huskies improved to 16-5-2 overall and 12-3-1 in league play.
The Huskies struck first at the 7:45 mark of the opening period when Mike McLaughlin scored his second goal of the season as Joe Vitale and Wade MacLeod assisted on the goal. Less than one minute later, the Friars tied the game as senior Pierce Norton (South Boston, Mass.) recorded his sixth goal of the season. Sophomore Austin Mayer (Providence, R.I.), who was behind the NU goal, slid a pass out front to Norton, who fired a one timer into the net at 8:40. Senior Matt Taormina (Washington Township, Mich.) also assisted on the goal. At 14:45, the Huskies regained the lead (2-1) shortly after killing off a penalty. Tyler McNeely emerged out of the penalty box after serving a two-minute minor and gained possession of the puck along the left wing boards before skating in on a two-on-one rush with McLaughlin. McNeely played a saucer pass to McLaughlin who then rifled a wrist shot that glanced off the cross bar and into the net for his second goal of the night and third of the season.
Ryan Ginand gave the Huskies a 3-1 lead as he scored on the power play at the 16:25 mark of the third period. Vitale (two assists) and MacLeod (three assists) were credited with assists on the play.
The Friars outshot the Huskies 33-30, but NU goalie Brad Thiessen stopped 32 shots. PC freshman Alex Beaudry (Cumberland, Ontario) finished with 27 saves.
The two teams will complete the weekend series Saturday night at Matthews Arena.