Saturday, October 4, 2008
MASSACHUSETTS BLANKS NEW BRUNSWICK, 6-0
Alex Berry scores twice for Minutemen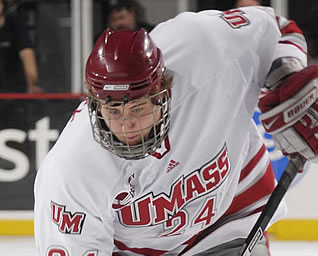 Alex Berry scored two goals for UMass
AMHERST, Mass. - The UMass ice hockey team used four power play goals, two by senior Alex Berry, in a 6-0 win over New Brunswick in exhibition action on Saturday night in the Mullins Center Practice Rink. Goalies Paul Dainton and Dan Meyers combined for the shutout. Sophomore James Marcou added a pair of assists, while senior captain Cory Quirk notched a goal and an assist. The Minutemen open the regular-season next Friday at the Ice Breaker Tournament in Boston against No. 12 Michigan State.
UMass held a commanding 39-to-21 shot advantage for the game and converted 4-of-8 power play opportunities. Dainton made 12 saves, while Myers made nine. Each saw 30 minutes of action. Reds goalie Travis Fullerton made 33 saves in the loss.
Berry started the scoring with a power play goal at the 17:05 mark of the first period. He added a second just four minutes into the second period.
Almost a minute and a half later, freshman Casey Wellman added a third power play goal to put UMass up 3-0. Senior Scott Crowder ended a three-goal second period with a short handed score with just 1:12 remaining.
Cory Quirk scored a power play goal 1:38 into the third period and Michael Lecomte added another at the 16:58 mark to round out the scoring.
The Mass Attack will begin the season at the prestigious Ice Breaker Tournament on Oct. 10-11 against Michigan State and North Dakota. The Spartans are ranked No. 12, while the Fighting Sioux are ranked No. 4 in the preseason poll. The Spartans won the 2007 NCAA title, while the Fighting Sioux have advanced to the Frozen Four in each of the last four seasons.
The home schedule will begin with a special Halloween-night game, Friday, Oct. 31, against Hockey East rival Providence at 7 p.m. The Hockey East schedule will be as tough as ever with a pair of visits from both Boston University and Maine along with a Nov. 22 meeting against defending NCAA National Champion Boston College, Other highlights of the home schedule include non-conference tilts between Cornell and St. Lawrence.
Season tickets and single-game tickets can be ordered by calling the Mullins Center Box Office at 866-UMass-TIX (866-862-7784). Season tickets for the 2008-09 season are priced as follows: Adults ($170), Seniors/Faculty/Staff ($150), Youth ($115). Single-game tickets are $15 for reserved seats, $12 for general admission, $10 for Seniors/Faculty/Staff and $8 for Youth and graduate students. Single-game tickets can also be ordered online by going to www.TicketMaster.com.