UMASS LOWELL NIPPED BY MICHIGAN STATE, 2-1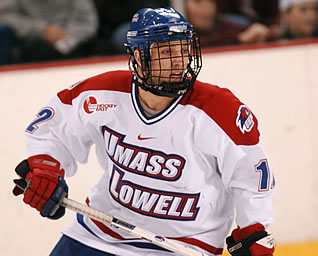 Kory Falite scored the River Hawk goal
LANSING, Mich. (Oct. 17, 2008) - Carter Hutton (Thunder Bay, Ont.) made 34 saves but No. 11 Michigan State used two third period power play goals to defeat UMass Lowell, 2-1, Friday night in college hockey action at the Munn Ice Arena.
The Spartans snapped a two-game losing skid and evened their record to 2-2-0 with the win. The River Hawks fall to 1-2-0 with the loss.
Trailing 1-0 entering the third period MSU scored two power play goals 16 seconds apart to come from behind and defeat the River Hawks.
Ben Warda (Lake Orion, Mich.) got the Spartans on the board with a five-on-three goal at the 3:53 mark. And Tim Crowder (Victoria, B.C.) gave MSU their first lead of the two-game series with the game-winning power play goal at 4:09.
Andrew Conboy (Rosemount, Minn.) and Crowder assisted on Warda's goal. Tim Buttery (Northville, Minn.) and Jeff Petry (Farmington Hills, Mich.) picked up the assists on Crowder's tally.
Junior winger Kory Falite (Billerica, Mass.) scored the River Hawks only goal of the hockey game with 1.2 seconds remaining in the second period. Paul Worthington (Langhorne, Pa.) and Ben Holmstrom (Colorado Springs, Colo.), whose strong forechecking led to the goal, picked up the assists.
Drew Palmisano (Ann Arbor, Mich.) picked up the win in his first collegiate start between the pipes for Michigan State. Palmisano made eight saves in each the second and third periods, and 21 for the game.
Hutton stopped a season-high 34 shots, but took the loss for the River Hawks. Hutton made 12 saves in each the first and third periods.
Michigan State out-shot UMass Lowell, 36 to 22 for the game, including a 12-5 edge in the first period. The Spartans were 2-for-5 on the power play. UML was 0-for-7 on the man-advantage.
"I don't think there's going to be very many nights where we're going to question the effort of our team," said UMass Lowell head coach Blaise MacDonald. "We came out to start the third period and played very well the all of a sudden penalties started coming out of nowhere. That was the difference in the game. We still had some glittering opportunities, but we have to do a better job of staying out the penalty box. And we have to do a better job finishing our opportunities."
The River Hawks return to the ice Friday night when they open the home portion of their schedule against Providence College. Game time is set for 7:30 p.m. The Spartans are next in action Friday night for a two-game home series with Western Michigan.