Thursday, October 16, 2008
UMASS LOWELL SHUTS OUT MICHIGAN STATE, 3-0
Carter Hutton posts shutout with 16 saves for River Hawks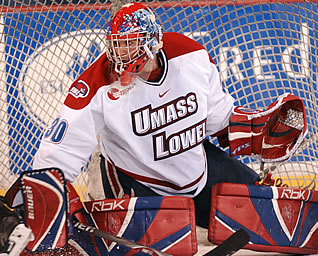 Carter Hutton posted the shutout with 16 saves
LANSING, Mich. (Oct. 16, 2008) - Carter Hutton (Thunder Bay, Ont.) stopped 16 shots to record his third career shutout as UMass Lowell defeated No. 11 Michigan State, 3-0, Thursday night in college hockey action at the Munn Ice Arena.
The River Hawks improve to 1-1-0 on the season and 4-3-0 all-time at the Munn Arena. The loss drops the Spartans to 1-2-0. UML has won four of the last five played at the Munn Arena.
Hutton didn't face a high number of shots, but was solid between the pipes in stopping 16 MSU shots for his third career shutout. Hutton made seven saves in the first, four in the second and five in the third.
Offensively the River Hawks got goals from three different skaters. Two players - David Vallorani (Hamilton, Ont.) and Jeremy Dehner (Madison, Wis.) - each had two assists.
Patrick Cey (Saskatoon, Sask.) and Vallorani combined to open the scoring in the game at 9:43 of the first period. Cey got the goal, his second in as many games, with Vallorani picking up his second assist in as many games.
The game remained 1-0 until the River Hawks power play chipped in with two third period goals. Scott Campbell (Navan, Ont.) scored his first goal of the year at 4:33 from Dehner and Vallorani.
Maury Edwards (Rocky Rapids, Alta.) capped the scoring with the River Hawks second power play marker of the night, his first of the year, at 14:06. Dehner and Kory Falite (Billerica, Mass.) had the assists.
The River Hawks were 2-for-7 with eight shots on the power play. Michigan State did not score and had three shots on their six power plays on the night.
UML out-shot MSU 30 to 16 for the game, including 13-7 in the first period and 10-4 in the second. Senior goaltender Jeff Lerg (Livonia, Mich.) made 27 saves, but took the loss for the Spartans.
"I thought overall we did a better job of managing the game positionally," said UMass Lowell head coach Blaise MacDonald. "Guys really stuck to their systems. I thought we got pucks in deep. We worked them well down low. We had a lot of good puck possession time. Our defense transitioned the puck very well and we didn't give up a lot of sniffs (around the net). It was a very solid game in all three zones."
The River Hawks and Spartans conclude their two-game series Friday night at the Munn Ice Arena (7:00 p.m.). UML opens its home schedule next Friday - October 24 - against Providence College.