Saturday, February 28, 2009
CATAMOUNTS SLIP PAST BLACK BEARS, 2-1
Jack Downing and Justin Milo score third period goals for Vermont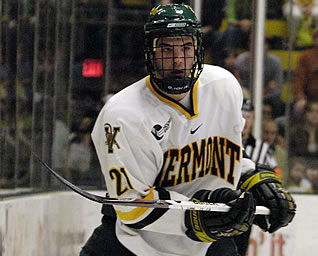 Jack Downing scored a goal for the Catamounts
ORONO, Maine - The University of Maine men's ice hockey team fell to Vermont 2-1 on senior night at Alfond Arena, but still clinched a berth in the 2009 Hockey East Tournament. Maine's Tanner House (Cochrane, Alberta) gave the Black Bears a 1-0 lead early in the third period, but saw the Catamounts score two goals in the final 6:09 of the game to earn the victory. Maine falls to 12-18-4 on the season with the loss and 7-15-3 in Hockey East play. Vermont improves to 19-8-5 on the season and 14-7-4 in conference play.
Early in the third period sophomore Tanner House (Cochrane, Alberta) broke the scoreless tie in a big way. Brian Flynn (Lynnfield, Mass.) fed the puck down to Gustav Nyquist (Malmo, Sweden) who skated infront of the net poised for a point blank shot. Nyquist surprised goaltender Rob Madore by tapping the puck behind him to House who ripped the shot right into the net. The game-changing score, at 3:37 into the third, was his seventh of the season.
The initial score opened the gates as Vermont responded with one of its own at 13:51. Jonathan Higgins skated into the Maine zone on the right side. Higgins passed the puck to the left to Kyle Medvec and he quickly shifted it to his left, finding Jack Downing. Downing beat David Wilson (Caledon East, Ontario) for his fifth goal of the season.
The tie didn't last long as the Catamounts scored again just over two minutes later. Like the first goal, Vermont passed the puck quickly from right to left across the Black Bear zone after picking a loose puck in neutral ice. Brian Roloff kicked it to Viktor Stalberg who sent it to Justin Milo for the score. Milo's game-winner was his 10th goal of the season.
Maine finished with an edge in shots for the second night in a row. The Black Bears outshot the Catamounts 25-22 in the game. Vermont was 0-for-3 on the power play in the game, while Maine was 0-for-4.
Maine goalie Dave Wilson made 20 saves in goal. He falls to 3-8-1 on the season. Rob Madore made 24 saves for the Catamounts. He improves to 12-6-4 on the campaign.
The Black Bears finish the regular season on March 6 and 7 when they travel to UMass Lowell for a pair of games. Vermont hosts New Hampshire in the final weekend of the 2008-09 regular season.
Maine honored seniors Jeff Marshall (Kyle, Saskatchewan), Matt Duffy (Windham, Maine), Chris Hahn (Fort Qu'Appelle, Saskatchewan) and Simon Danis-Pepin (Vaudreuil-Dorion, Quebec) both before and after the game.